Citrus Marinated Pork Chops
February 8, 2017
Pork chops, The IK's notebook reads somewhere around January 27th. Make again.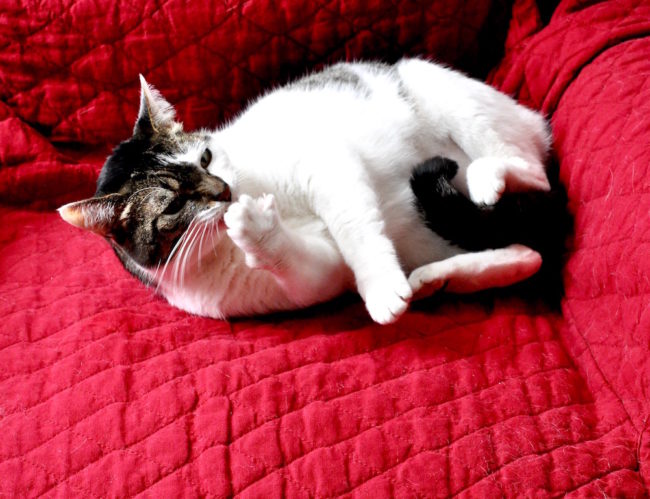 Lest you think this a gratuitous cat pic, know that all blog photography happens directly in front of that chair. The cat has decided to supervise. And the IK does wash that chair cover. Frequently.
Some of the best meals Chez IK come together in times of crisis. Pneumonia? Raging dental infection? Unexpected death? See the IK respond with delicate fried rice, a complex rasam, a gorgeous pasta. Any threat to that fragile edifice known as daily life and she's galvanized. The trouble with comes later, when calm returns…wait….did the calm return? Okay, scratch that. The trouble comes when the IK is asked to replicate her efforts. See your hostess draw a blank.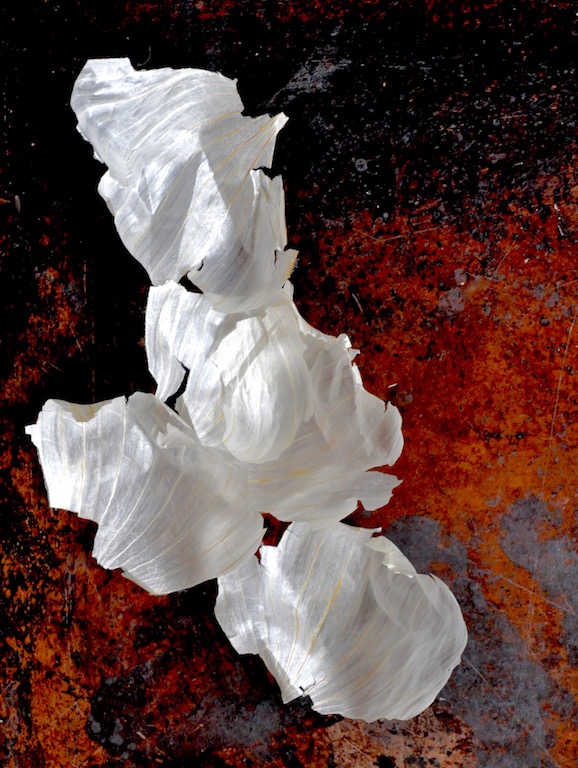 The IK does make notes, but tendonitis and Carpal tunnel have impacted her grip.Jotting more than a few words invites paralyzing flare, broken only by steroids. This means writing incomplete, often unreadable notes.
January 27th's entry reads "salt, pepper, cumin, garlic" and "tequila: not enuf to drink anyhow," a reference to pouring good liquor over food instead of into a glass.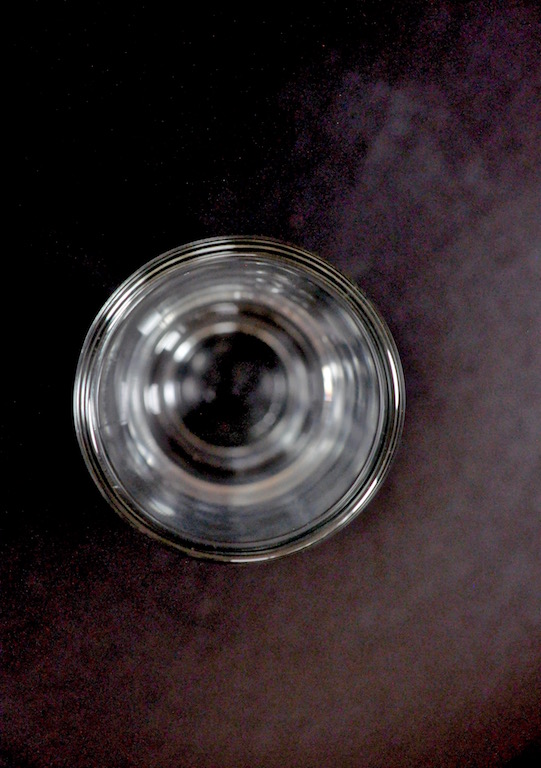 So,  pork and citrus. Hardly culinary news. Not going to break the internet.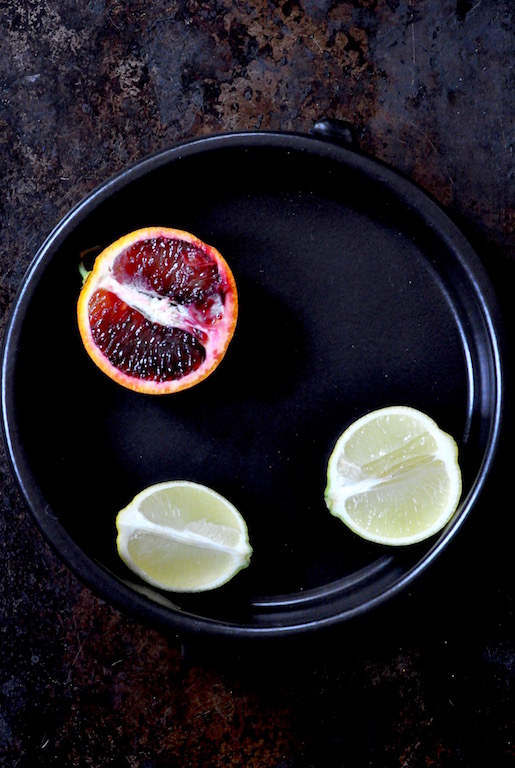 This is a flexible and friendly dish. You can make it spicy, or ease up for a milder experience. As the IK noted on Instagram, all these spices are immigrants. From left: black pepper, cayenne, cumin, and Maldon salt.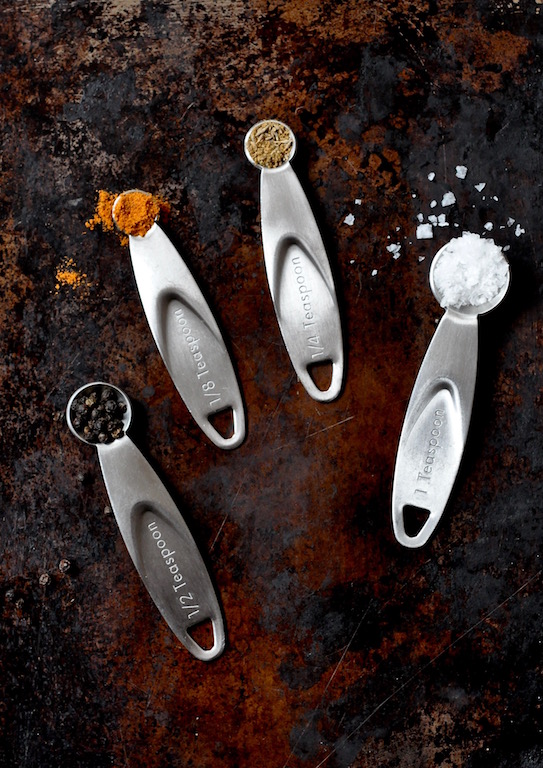 In the IK's other life as a book reviewer for Popmatters.com, she read Mark Essig's extremely informative and at times distressing book about pigs, entitled Lesser Beasts. Rather than subject you to an annoying freak flag lecture about sustainable pork, suffice to say, Essig's book makes a convincing argument for buying humanely raised, ecologically sound stuff, becoming vegetarian, or being the sort of person who probably isn't reading this blog to begin with. Buy the best pork you can for this recipe. Mini Berkeley Freak Flag Lecture concluded.
We like this with Mexican-style accompaniments: rice, doctored beans, tortillas, and sliced avocados. The IK adds sour cream and green salad. If you are a home canner, bring out your jar of pressure-canned corn.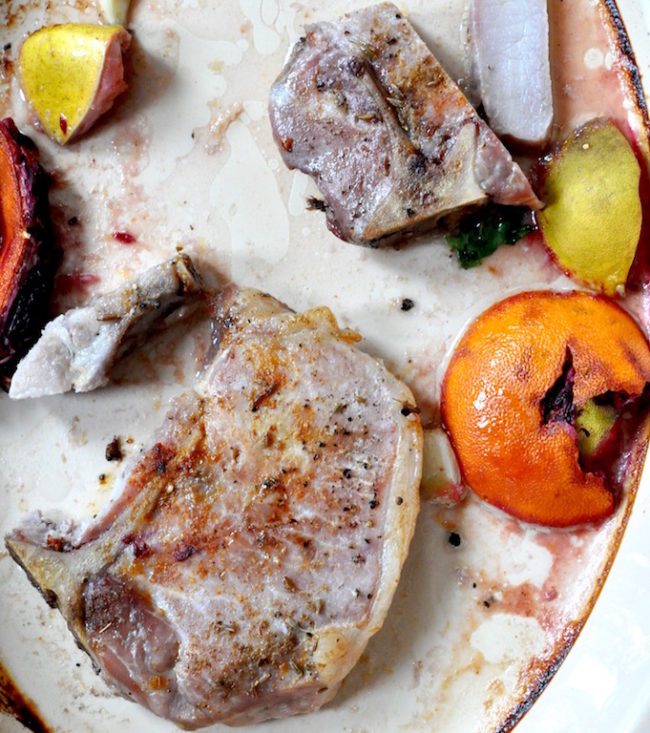 Citrus Marinated Pork Chops
prep time: 1-4 hours marination time, 45 minutes–1 hour baking time
Pre-salting chops, optional: 1-2 days ahead
yield: 2 servings, easily scaled upward
2 bone-in pork shoulder chops, the best you can afford, about one pound each (I used Becker Lane)
1 orange
1 lemon
1 1/2 teaspoons coarse sea salt or 3/4 teaspoon fine sea or table salt
a good grinding of the pepper grinder, equivalent to 2 teaspoons black pepper
1/8th teaspoon cayenne pepper
1/4th teaspoon ground cumin
1 tablespoon tequila (see notes for substitutions)
4 cloves garlic, peeled and lightly crushed; if cloves are sprouting, halve and remove sprout
1-2 tablespoons neutral vegetable oil like canola or peanut
Additional water, if necessary
If you are presalting the pork chops, up to two days before cooking, rinse chops with cool water and pat dry with paper towels. I use coarse Maldon salt, one teaspoon per pound of meat. If using fine salt, use less, about 3/4 teaspoon per pound. With clean hands, rub salt lightly over the meat. Place in clean ceramic or glass dish. Cover with foil and refrigerate up to two days.
One to four hours before cooking, place pork chops in a baking pan that just holds them. It should be ceramic or oven safe glass like Pyrex. Squeeze the orange and lemon juices all over the pork chops. Return to the refrigerator. Do not marinate longer, or pork will become mushy from citrus juices. If you want the scientific explanation for this, consult Harold McGee's On Food And Cooking.
Allow the pork to come to room temperature before cooking.
Preheat oven to 325F.
If you haven't pre-salted your pork, add the salt now. If you have pre-salted, don't salt twice.
Add the black pepper, cayenne pepper, cumin, tequila, and garlic to the pork. Add the oil. You can either discard the spent citrus shells or bake them; I like leaving them in. If the pan appears dry, add up to 1/2 cup water. (You may not need to; I used a pan that was too large, necessitating additional liquid.)
Place the pan in the oven and cook, checking liquid level at the 25 minute mark. Add a little water if necessary. Check for doneness at 45 minutes; pork is done when juices run clear, meat slices easily and there is no pink at the bone. Avoid overcooking: today's pork dries out easily.
Serve with rice, tortillas, green salad, avocados, sliced lemon or lime, sour cream, and black beans.
Leftover pork will keep, refrigerated, up to three days; freeze, well wrapped, up to three months.
Notes: I used a blood orange, as they are in season now, but navel oranges are fine.
All spice amounts are adjustable to taste; if you follow the recipe, the dish will be moderately spicy without blowing your head off. Use more or less garlic as well.
Substitutions for tequila: a tablespoon of white vinegar, low salt chicken broth, rum, Vermouth, dry white wine, or plain water.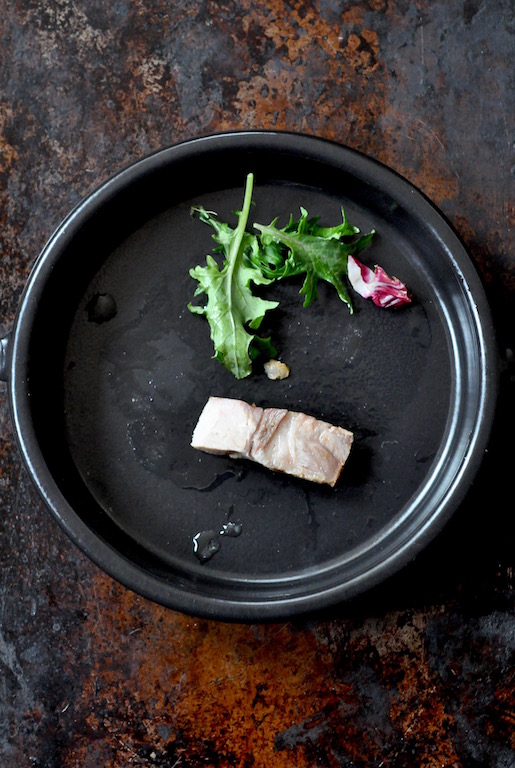 Share: