Oven Baked Chicken Fingers
July 17, 2017
In addition to being something of a food snob, your hostess is suffering recipe fatigue. She is heartily sick of recipes for s'mores, acai bowls, and anything involving avocado. She doesn't want to see any more recipes using the words healthy or clean. 
Surely she isn't alone in this?
It was with this admittedly poor attitude that she viewed the publication of Food52 founders Amanda Hesser and Merrill Stubbs's A New Way To Dinner. She objected to "dinner," formerly a noun, becoming a verb. Or is it an adjective? Or has it become all three?
Whatever the part of speech, your hostess took a dim view, meaning she did not view A New Way To Dinner at all.
This, of course, was a mistake.
Said mistake was remedied last week, when your hostess found A New To Way To Dinner at the Berkeley Public Library, proudly displayed on the shelf of librarian recommended reads. Adding it to her pile of books (the collected Margaret Drabble, since you ask), she signed out and set off.
Once home, she found the Food 52 team shared her taste in cutlery. At least, their prop people do. This fork is part of a 1923 Oneida cutlery set belonging to her grandmother.
Detail:
As you can see, the IK got very excited about this. Mr. IK was less enthused.
—
A New Way To Dinner is titled thus for its method: shop with the authors' lists, set aside a few hours to batch cook on a weekend afternoon, and a family of four, give or take, has a week's worth of healthy, tasty lunches and dinners.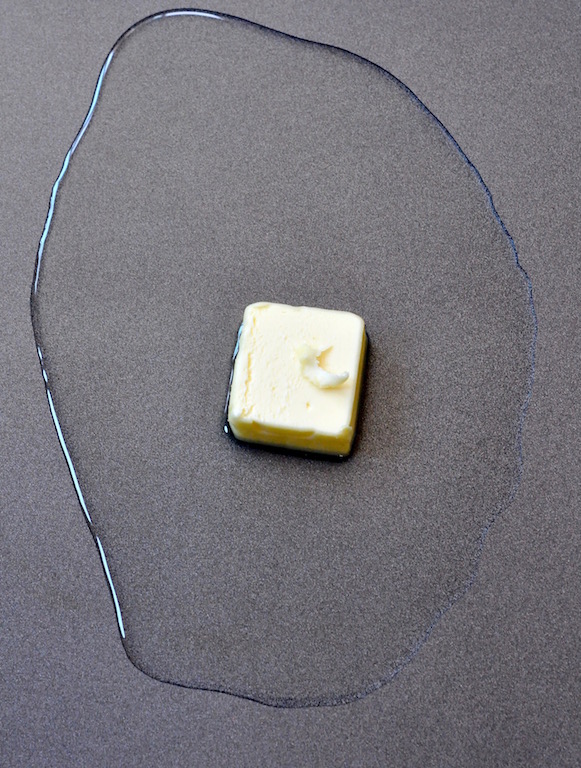 While the idea is excellent–what overworked family couldn't use this kind of help?–new it isn't. Mollie Katzen dinnered the very same way in 1988's peerless Still Life With Menu, right down to the shopping lists. And Katzen's pizza recipe rivals Deb Perelman's. Don't believe me? Try it. And while you're at it, be sure to make the Puree of Yellow Squash Soup.
I digress.
You may sniff at chicken fingers, thinking them child food or associating them with certain proprietary fast food chains. Banish such imaginings. A New Way To Dinner's chicken fingers are what all chicken fingers aspire to. Consider: they aren't just breadcrumbed: they're dipped in panko. And then, for good measure, they're dipped in parmesan cheese. And no, we are not talking the stuff in the green cardboard can. Real parmesan. From Italy. Life is short, and they way the American Presidential administration is conducting itself, soon we'll have no planet left to eat parm on.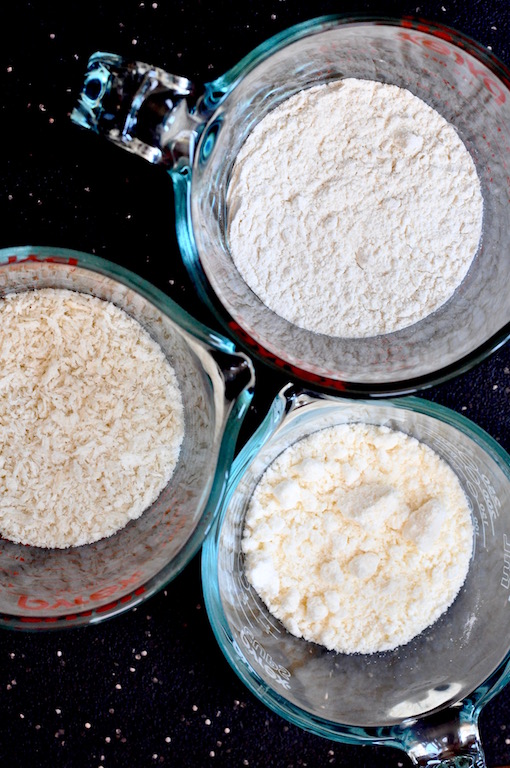 All to say, eat real parm now.
Even better: these fingers are baked, not fried. No oil spatter, no burns, no wondering how to rid yourself of an excess of used oil after the fact. And no greasy chicken.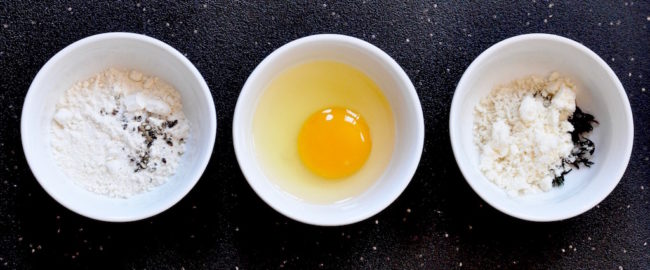 The recipe comes courtesy of Merrill Stubbs, and as she notes, the chicken fingers are good at any temperature. Assuming there's any chicken left to get  cold.
Further advantages, as if any were necessary: chicken fingers may be served in salads or sandwiches. Or do as Merrill Stubbs does, and place them atop pizza.
Did I mention I bought A New Way To Dinner yesterday?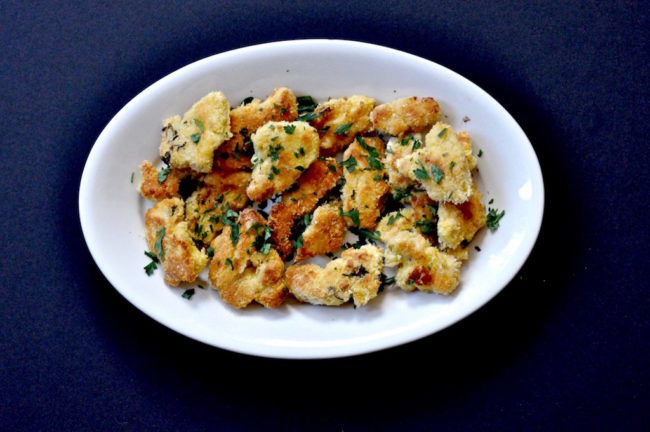 Oven Baked Chicken Fingers
From Food52's A New Way To Dinner by Amanda Hesser and Merrill Stubbs
Yield: Enough to feed two people (see notes about cuts and amounts)
1 pound boneless, skinless chicken breast, cut into strips
3/4 cup all-purpose flour
2 teaspoons fine sea salt
2 teaspoons black pepper
1 cup panko
1/2 cup parmesan cheese, grated
1 teaspoon fresh oregano, minced
or
1 teaspoon fresh thyme, minced
2 large eggs
about 2 tablespoons butter (for the baking sheet)
canola, peanut, or sunflower oil (for the baking sheet)
Instructions
You will need three large bowls and 2 baking sheets for this recipe.
Preheat the oven to 400F.
Mix the flour, salt, and pepper in bowl one.
Mix the panko, parmesan, and oregano or thyme in bowl two.
Crack the eggs and mix them with a fork in bowl three.
Now arrange the bowls in a line: flour bowl, egg bowl, panko bowl.
If you haven't yet, slice the chicken into strips. If the chicken is slippery, put it into the freezer for 5 minutes to firm up.
Dip a few chicken strips into the flour, coating them completely. Lift them out and shake off any excess flour. Dip chicken into the egg, then coat with panko. Place the breaded strips on a baking sheet. Repeat until all pieces are coated.
Pour a generous tablespoon of oil onto a second baking sheet, ensuring it is completely covered. Add more if necessary. (A heavy nonstick baking sheet is helpful here; you don't want a baking sheet that will warp in the oven heat) Add about two tablespoons of butter. Place sheet in the oven briefly to heat up. Watch closely to ensure the butter does not burn. If it starts browning rapidly, turn the heat down 25 degrees.
Once the butter is melted–which will happen quickly–carefully add the chicken strips to the hot baking sheet. Tongs are best for this. Bake chicken for ten minutes, turning pieces over. Cook another ten minutes.
If your oven has hot spots, you may need to turn baking sheets from front to back and/or move chicken pieces around on the baking sheet. You may also need to add a bit more oil or butter.
After 20 minutes, check for doneness: chicken will be nicely browned and extremely enticing looking. It will look and smell done. Remove cooked pieces to platter or plate and try to refrain from consuming immediately. Return any underdone looking bits to oven for a few more minutes.
Either serve immediately or allow to cool and serve later in the week to ecstatic family and friends. Who should worship you.
Oven baked chicken fingers cry out for mayonnaise mixed with Sriracha. If you really want to gild the lily, make ailioli. Squeeezes of fresh lemon are also delicious.
Chicken fingers will keep, refrigerated, in a covered container, about four days. Though this is unlikely.
Notes:
The original recipe instructs readers to cook chicken at 450F. My oven runs true, but ovens vary; and this was too hot for me: the butter burned, and the chicken almost did. I found 400F a better temperature–the chicken cooked in 20 minutes without burning. If you find this too cool, turn the heat up 25 degrees, but watch closely. Boneless chicken cooks quickly.
The original recipe called for three pounds of boneless, skinless chicken thighs. I've made this three times with one-pound packages of chicken breast, because it's what I had.  Next time, I'll happily use the the full three pounds of boneless thigh meat Hesser calls for. There is no such thing as too much of this chicken. It's that good.
I am able to purchase quality grated Parmesan at the cheese counter of my market. Please avoid the processed stuff, which is tasteless.
The original recipe called for fresh oregano. Lacking it, I substituted thyme, which worked beautifully.
You could play a bit with the breading; depending on the rest of your meal, ground coriander, cumin, fennel, paprika, cayenne, or sumac would all work here. I added a pinch of cayenne and a quarter teaspoon of sweet paprika to one recipe. Wonderful.
Panko, or Japanese breadcrumbs, are widely available in most markets, usually in the International or Asian foods aisle.
Social media is awash in gorgeous, perfectly designed kitchens. Here we have the IK's cooking space, moments after a blog shoot. Note the open drawers, the splayed notebook, the cookbook, the sopping dishtowel . In the background: the kitchen's only two electrical outlets. To help restore order: bourbon.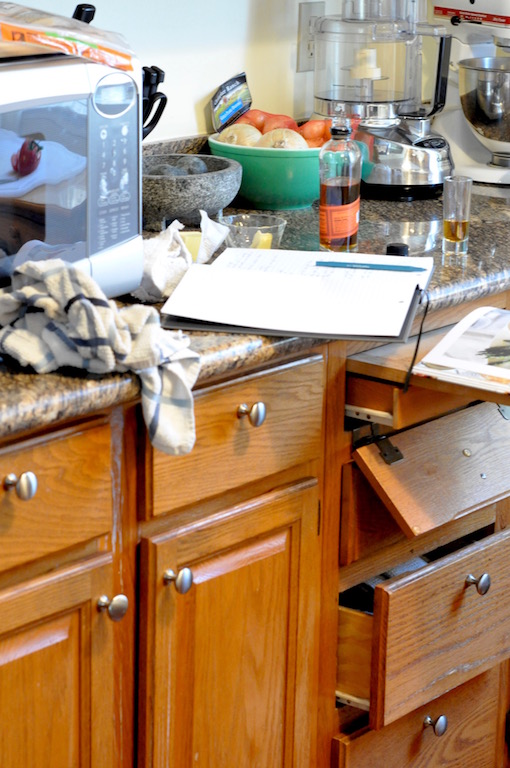 SaveSave
SaveSave
SaveSave
SaveSave
SaveSave
SaveSave
SaveSave
SaveSave
SaveSave
SaveSave
SaveSave
SaveSave
Share: