Chinese Takeout Noodles
July 27, 2017
Breezy little blog posts are increasingly impossible. This week gave us Chester Bennington's death, the migrant tragedy in the Texas Walmart lot, Venezuela, Yemen, and Syria.
Atop all this, a gibbering idiot is running amok in the White House.
In this context, Chinese Takeout Noodles are beyond trivial.
Then again, Chinese Takeout Noodles rely on foods brought here by immigrants. And unless you are Native American, you are or are descended from an immigrant.
—
Chinese Takeout Noodles wandered across my brain, or what's left of it, as I wondered what to do with some leftover chicken.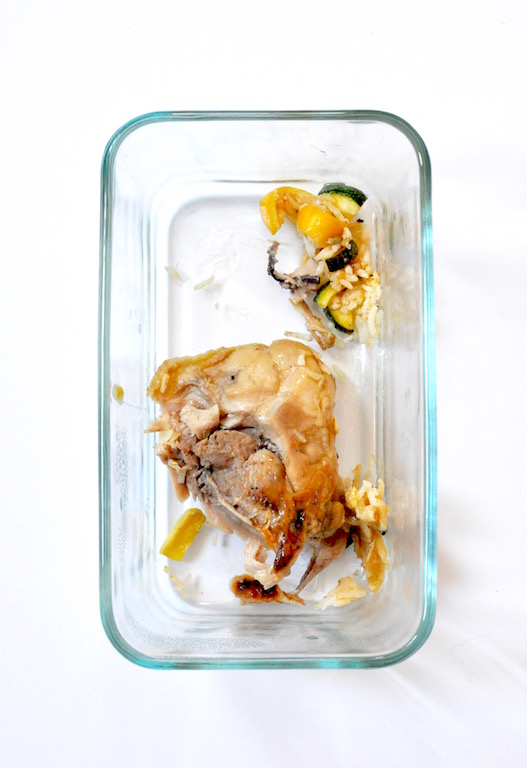 I worked from three recipes, all classic iterations of Dan Dan Noodles– Fuchsia Dunlop's Every Grain Of Rice, Carolyn Phillips's All Under Heaven,  and Diana Henry's Simple.
You'll notice there's no sesame paste here. I can't use it up fast enough, so I don't keep it in the house.
These do contain peanut butter. During grad school, we ate so much peanut butter we came to detest it. That was 21 years ago.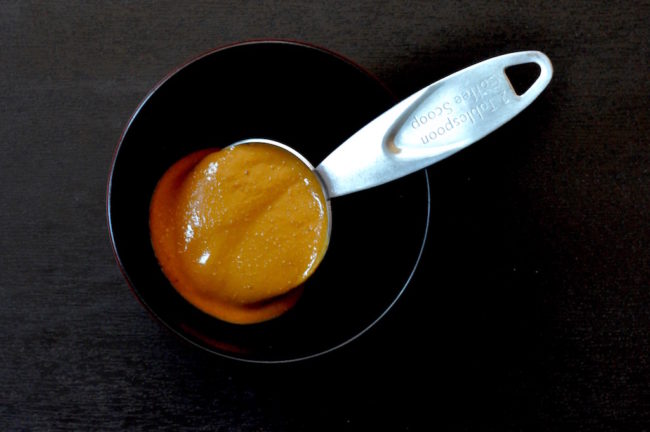 Chinese wheat noodles, dried or fresh, are most commonly used here. My use of Japanese Udon isn't a case of blithe cultural ignorance or intent to insult. Rather, I am feeding somebody with Muscular Dystrophy. Eating slippery noodles is a challenge. Udon noodles, with their inherently thick, clumpy texture, are easier to pick up with a fork (we cannot manage chopsticks).  If you and yours are not afflicted, by all means, use Chinese wheat noodles.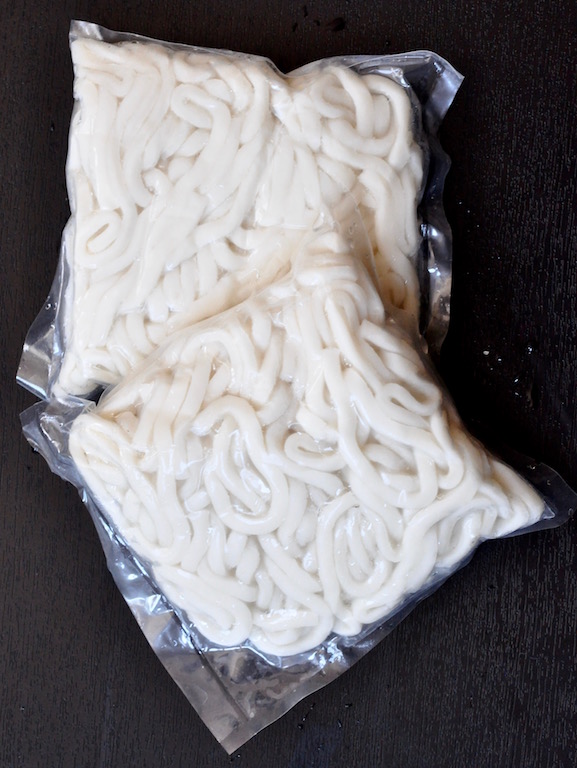 Speaking of clumpy, Carolyn Phillips suggests offering small bowls of pasta water at table for diners wishing to thin the sauce. You should also reserve cooking water if you plan to reheat the dish later: it will need thinning.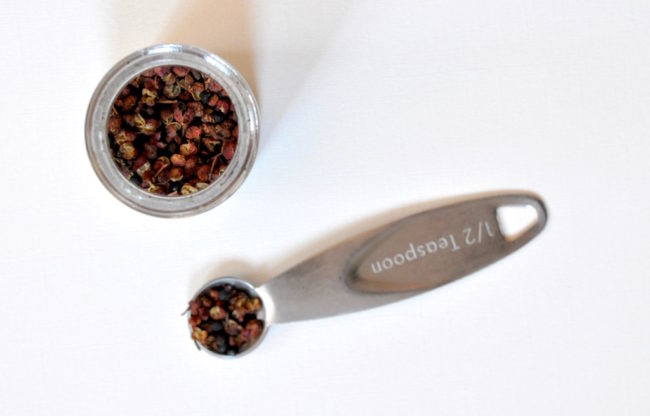 Diana Henry notes in her recipe that Chinese Takeout Noodles are all about finding the balance of hot, sweet, sour, and salty tastes. Tinker with this until it's right for you.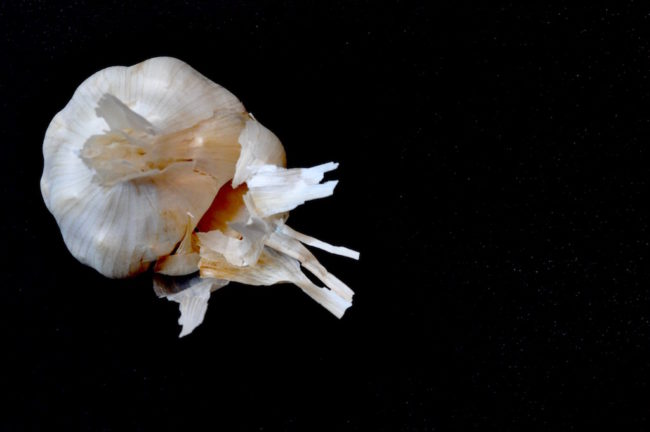 Chinese Takeout Noodles are wonderful as a vegetarian entree. Or sliced leftover chicken or pork. Top with unsalted peanuts, should you desire (I did not).
Finally, this is fast, easy, and utterly delicious. Don't let the long ingredient list deter you–everything goes into the wok at once, save the noodles. You can do the prep in a single bowl.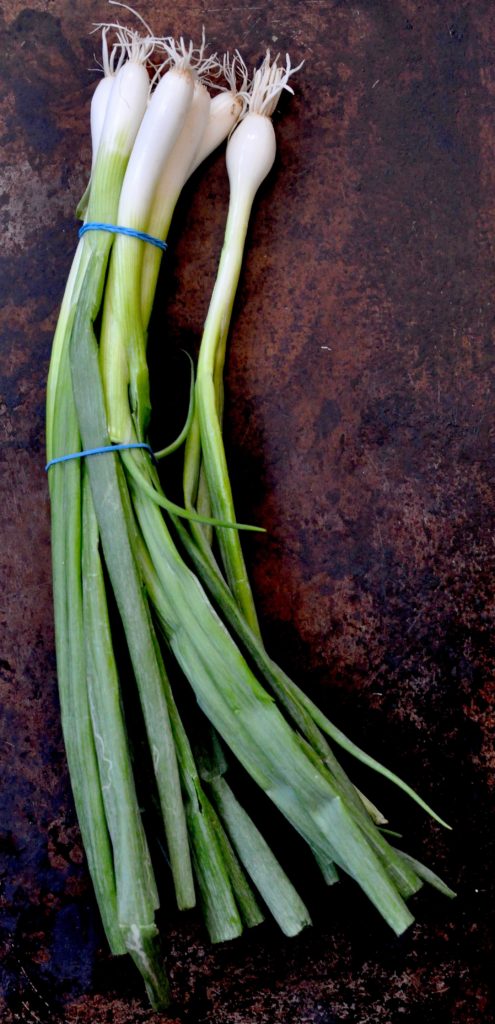 Sliced cucumbers or radishes are nice on the side.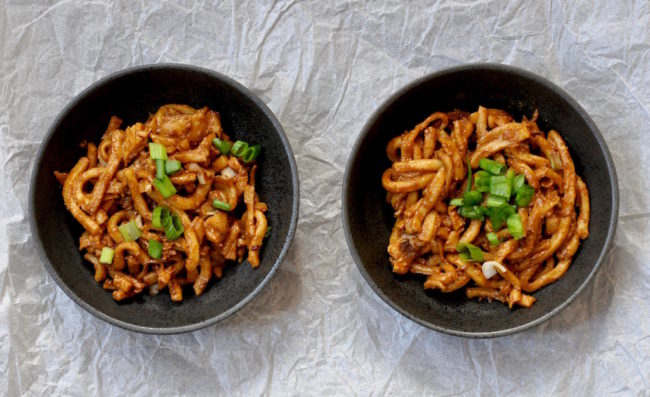 Chinese Takeout Noodles
Adapted from recipes in Fuchsia Dunlop's Every Grain Of Rice, Carolyn Phillips's All Under Heaven, and Diana Henry's Simple
Yield: 2 servings
2 six ounce packages Udon noodles (see notes)
peanut, sunflower, or canola oil, for the pan
1/4-1/2 teaspoon dried Thai hot pepper, seeded or not, to taste
1/2 teaspoon Sichuan peppercorn
2 tablespoons smooth peanut butter
2 tablespoons dark or regular soy sauce
1 tablespoon black Chinese vinegar (see notes)
1 teaspoon or more palm or brown sugar, to taste
2 teaspoons chili oil
2 teaspoons sesame oil
1 scallion, sliced thinly, white and green parts divided
Optional:
Sliced cooked chicken or pork
unsalted peanuts, for the top
Instructions
Ideally you have a wok for this. No wok? Now's the time to get out your biggest frying pan.
First, prepare your noodles, making sure both noodles and their cooking water are close to hand.
Heat the cooking oil in a wok or large, heavy frying pan. Add all sauce ingredients and the white portion of the scallions, stirring constantly over medium-high heat. The sauce will come together almost instantly. Depending on your peanut butter, it may be very dark. Turn down the heat if necessary.
Add the noodles, stirring to coat. You will need to add some noodle cooking water to loosen things up–it's impossible to say how much; at least two or three good ladlefuls.
Add chicken or pork, if doing so. Turn down the heat and taste; you may wish to add chili sauce, vinegar, or more soy sauce. Or maybe it's perfect as is.
Spoon into a serving bowl or bowls. Sprinkle scallion greens over the top. Add peanuts, if desired.
Sliced cucumbers or radishes are nice with this. So is a vegetable stir fry.
Notes: Chinese fresh or dried wheat noodles are more authentic here.
Black Chinese vinegar is available where soy sauces are sold. If you prefer, use rice wine vinegar to taste.
Chinese Takeout Noodles are best eaten immediately, but can be refrigerated in a sealed container for up to three days. Reheat with additional noodle water the day they're made. After that, use tap water to loosen the dish when reheating.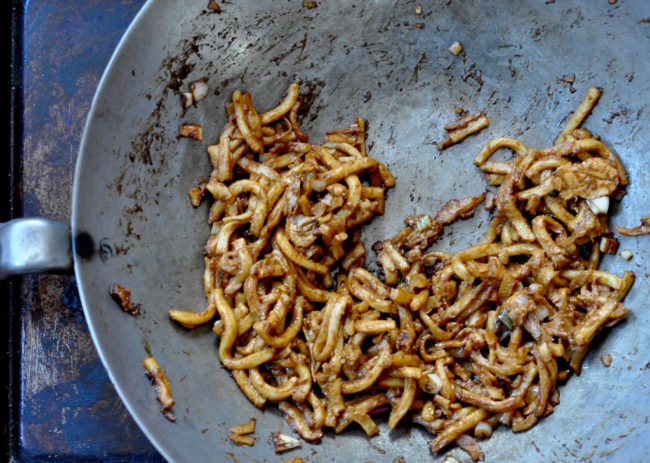 SaveSave
SaveSave
SaveSave
SaveSave
SaveSave
SaveSave
SaveSave
SaveSave
SaveSave
SaveSave
SaveSave
SaveSave
SaveSave
SaveSave
SaveSave
SaveSave
SaveSave
SaveSave
SaveSave
SaveSave
SaveSave
SaveSave
SaveSave
SaveSave
SaveSave
Share: