Cardamom Hazelnut Cakes
March 28, 2017
The quest to make breakfast appealing for John, no kind of morning person, continues.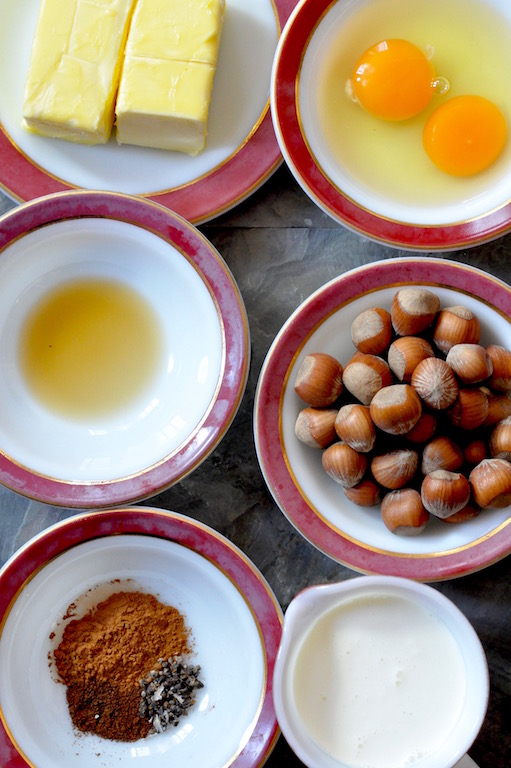 Expecting non-breakfasters to become lovers of the full English is unrealistic at best. Kind of like expecting people to voluntarily surrender their health care.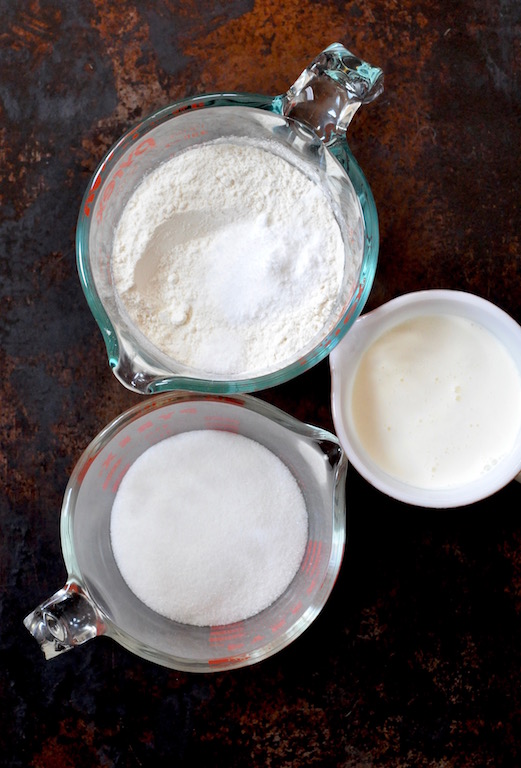 The trick to an appealing John breakfast is simple, portable food: a muffin, a piece of fruit. No little bits or pieces that can tumble or create crumbly messes. No frosting.
You might be vaguely recalling a hazelnut cake recipe I put up and wondering whether this is similar. It's not–I mean, yes, hazelnuts. Apart from that, you're here, which I appreciate. I won't bore you with the same old thing.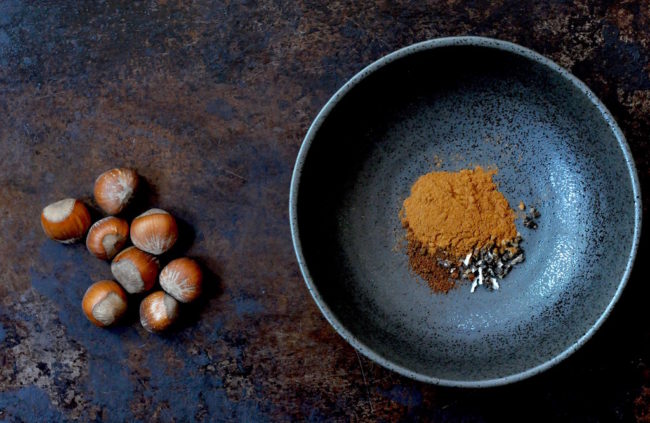 This recipe–besides having cardamom–is decidedly more cakelike than the hazelnut cakes, asking us to cream butter and sugar in an actual mixer. Granted, both recipes come from Chez Panisse alums, specifically, David Tanis and Claire Ptak. And both recipes began with other kinds of nuts before yours truly took them down the hazelnut path.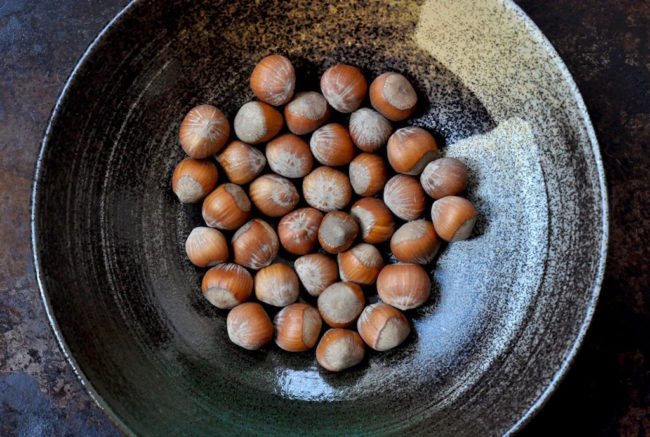 Cardamom Hazelnut Cakes comes from Claire Ptak's Violet Bakery Cookbook, a recently acquired purchase that's already seen heavy use. Ptak is a classic Chez Panisse chef; instead of long lists of foodstuffs, she gently coaxes flavor from a few quality ingredients. The result is classic cakes, cookies, and wonderful scones.
The is a great book for beginning and/or timid bakers, with explanations of how and why to aerate flour and sugars, how to approach fruits or treacles, and sound reasoning for seasonal baking.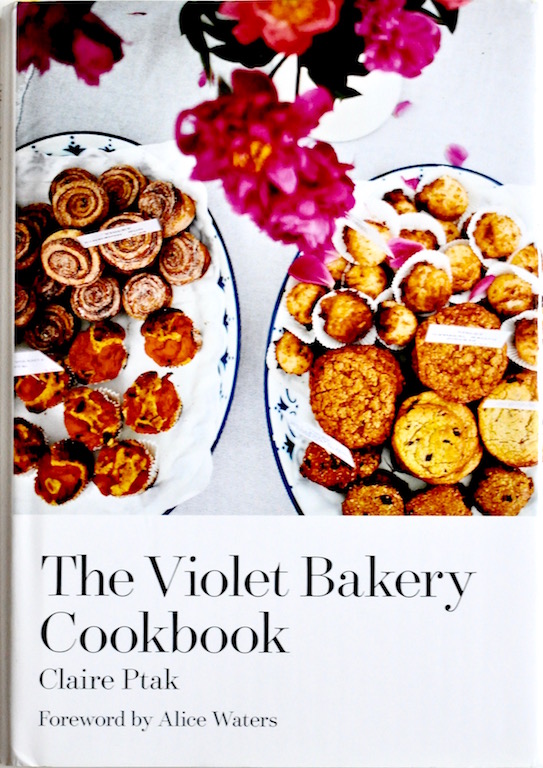 The original recipe calls for walnuts, and I've baked it that way. It was perfect. But being me, I had to mess with it. Actually, I messed with it because I love photographing hazelnuts. And even more than photographing hazelnuts, I love to photograph hazelnut shells.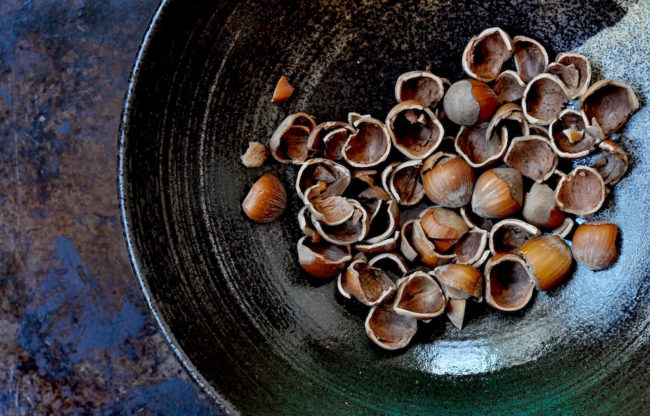 We all have our mishegoss (idiosyncratic craziness). But never for a moment did I think the Affordable Care Act was somehow different from Obamacare. Though confusing the terminology is less mishegoss than ignorance. But getting rid of affordable healthcare? Um, no. Healthcare. It's a basic necessity. Right up there with food, water, and a roof.
And in case you're unsure of this basic biological fact, making a baby requires, ah, contributions from men. Which we women cannot produce. But some men have recently declared themselves free of responsibility from the whole babymaking venture, including anything involving birth control, or funding thereof. Guys? It really does take two. In cases of in vitro or surrogacy, it takes even more. But the male contribution is inevitably necessary to get that egg going, know what I'm saying?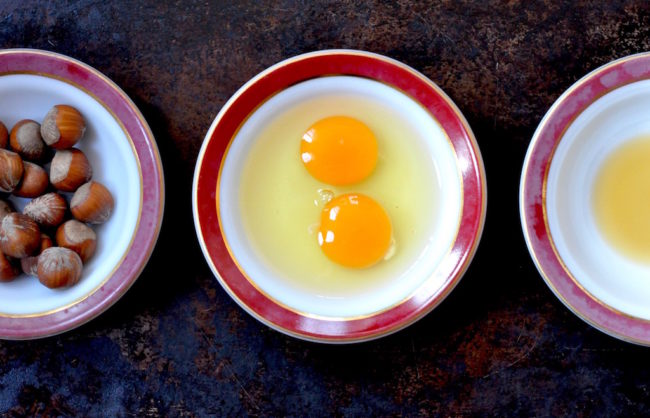 I hope you aren't too shocked.
Returning to the food blog.
Whether you bake Cardamom Hazelnut Cakes with walnuts (which changes their name) or hazelnuts, the recipe calls for crème fraîche, which is far cheaper to make than buy. Before you freak out (you may be already), crème fraîche is easy, easy, easy. Buy excellent buttermilk or yogurt, full fat, plain, full of live cultures. While you're shopping, buy two cups of heavy cream, again, excellent quality–organic, if possible, not super-duper pasteurized. Pour your cream into a nice clean bowl or jar. Add two tablespoons buttermilk or yogurt to heavy cream. Cover lightly with cheesecloth, a plain fabric napkin, or clean dishtowel. Leave on your counter, 12-24 hours. When the time is up, pour into a clean, lidded jar. Refrigerate up to three weeks.
Now for this you really don't need a man. Or even a kitchen. Should you happen to have either–or even be a man, well, that's okay, too.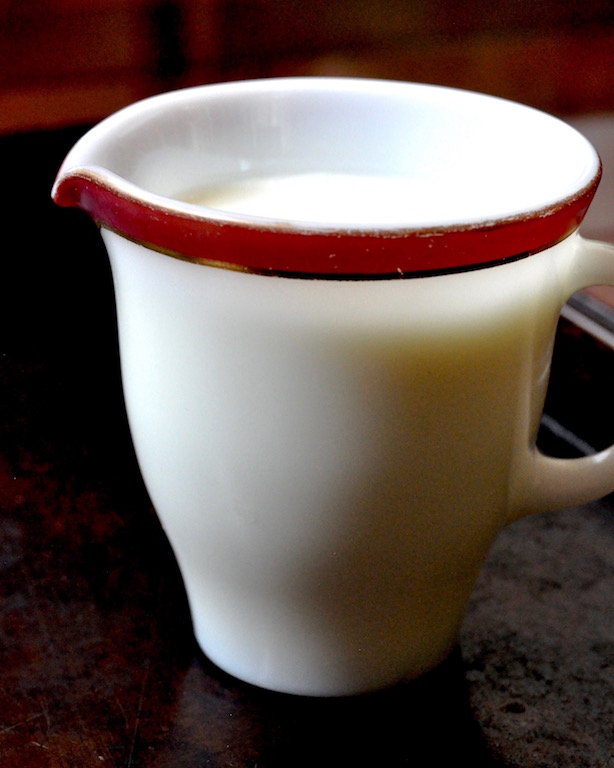 Ptak calls for buttering the wells of a muffin pan. I've had better luck using nonstick spray, a product I've previously been unkind to. But after heavily buttering only to have my baked goods stick, I invested my trust in Mollie Katzen and Carolyn Phillips. Both suggest using nonstick food spray in their books, and both know more than I do about pretty much everything. After purchasing Spectrum Organic Canola Spray Oil,  my cooking life got a lot easier.
You'll need a stand or handheld mixer to make these. You also want your ingredients at room temperature, with your butter nice and soft. Do consider using a European style high-butterfat butter like Kerrygold or Plugra. I am fond of Kerrygold, a delicious butter for a nice price. And no, they aren't paying me. They don't know I exist.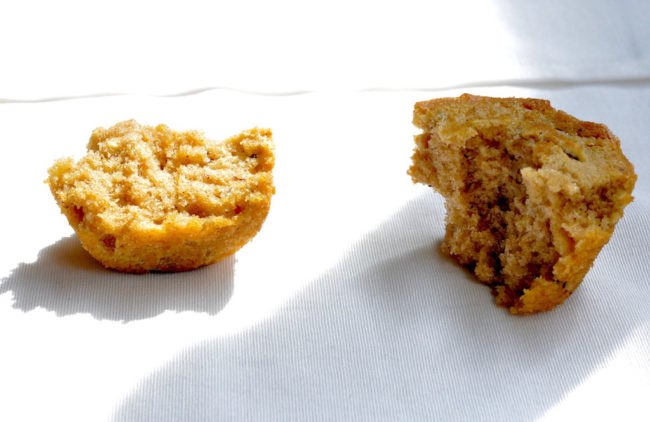 Cardamom Hazelnut Cakes
Lightly Adapted from Claire Ptak's Coffee Cardamom Walnut Cakes recipe in The Violet Bakery Cookbook (which you should buy, immediately)
Yield: 12
You will need a stand mixer or handheld mixer for this recipe. You'll also need a nutcracker, a sharp knife, and a large mixing bowl.
The originial recipe is given in metric; hence the oven setting of 340F and measures like 13 tablespoons.
1/3 cup hazelnuts, shelled
1 1/2 cups all-purpose flour
3/4 teaspoon baking powder
3/4 teaspoon baking soda
1/2 teaspoon kosher salt
3/4 teaspoon ground cinnamon
1/8 teaspoon ground cloves
1 teaspoon ground cardamom (see notes)
13 tablespoons unsalted butter, softened
3/4 cup sugar
2 eggs
1 1/2 teaspoons vanilla
3/4 cup+2 tablepsoons crème fraîche (recipe below)
For the crème fraîche
2 cups heavy cream, ideally organic, not heavily pasteurized
2 tablespoons buttermilk or full-fat plain yogurt, ideally organic, not heavily pasteurized
If you plan to make your own crème fraîche, you'll need to do this 12-24 hours ahead of time. Sterilize a lidded glass or plastic jar. Stir the buttermilk or yogurt into the cream. Cover with cheesecloth or clean napkin. Allow to stand 12-24 hours. When the time is up, cap and refrigerate up to three weeks.
To make the hazelnut cakes:
Preheat the oven to 340F.
Spray a 12-well muffin tin with non-stick spray. Be sure to get the top of the pan, too. Or butter the pan generously with melted butter.
Shell the hazelnuts. Place on a tray and heat them for a few minutes. You aren't looking to toast them, just to bring out their oils. Be careful not to burn them. Remove from oven and allow to cool–they shouldn't be too hot. Once you can handle them, chop finely with a knife. Set aside.
In a large bowl, mix the flour, baking powder, baking soda, kosher salt, cinnamon, cloves, and cardamom with a whisk. Add the nuts, whisking through to incorporate.
Using the paddle attachment, cream the butter and sugar until fluffy. It's hard to overdo this step.
When the sugar and butter are light and airy, add the eggs, one at a time, mixing until incorporated. Add the vanilla, then the flour/spices/hazelnuts. If your mixer is anything like mine, you may need to scrape down the bowl with a spatula.
Now add the crème fraîche. My mixer is on the smaller side, so adding the crème fraîche while it was running created a splattered mess; if your mixer is small, turn it off, pour the crème fraîche in, then start at low speed to avoid a Jackson Pollock dairy experience.
I found using a two-tablespoon measure made portioning the dough easier. Scoop into muffin wells and bake for 20 minutes. Cakes are ready when tops spring back and toothpick tester comes out clean.
Cool on rack before turning out.
Hazelnut Cardamom Cakes keep, well-wrapped, at room temperature, up the three days. They also freeze well.
Notes: I purchase cardamom in the pod. For this recipe, I crack the pods with a pestle to extract the seeds, measuring one teaspoon.
Original recipe calls for pink peppercorns. As I never use pink pepper, I ommitted it.
Original recipe uses 2 1/2 ounces walnuts, and is marvelous. Try it!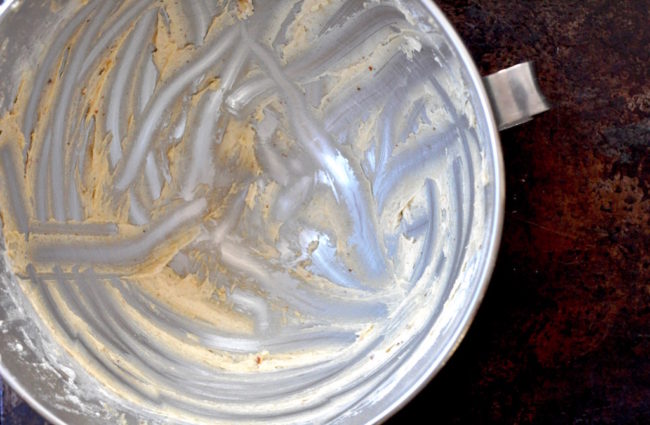 Share: