Broiled Flank Steak with Mustard Mashed Potatoes
April 4, 2017
In 1994, yours truly sat in a grubby apartment, roach-infested apartment, reading Laurie Colwin's More Home Cooking.
Building management suggested we purchase geckos to eat the roaches. Animals of the four-legged variety were not permitted.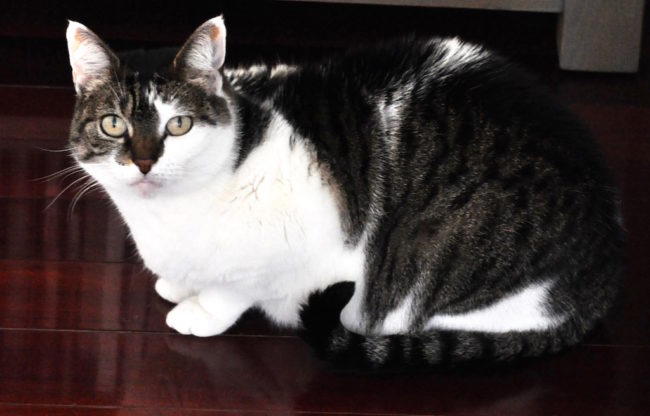 (Forbidden.)
So a youthful version of yours truly sat in the chair she'd hauled in from the curb (grad student interior decor) reading Laurie Colwin's  "Flank Steak: The Neglected Cut." Sometimes she was joined by an interested roach, who read along. (not pictured.)
By now I'd sampled the occasional flank steak, always in fajita form. In her essay, Colwin doesn't discuss fajitas. Instead, she describes a colleague who boils a flank steak. Even as a culinary novice, I knew this was a bad idea. Would you boil hamburger? Put leg of lamb in the toaster? People get funny ideas when it comes to food. Then again…well, never mind.
More sensibly, Colwin offered a recipe for marinating flank steak with soy sauce, olive oil, garlic, and pepper.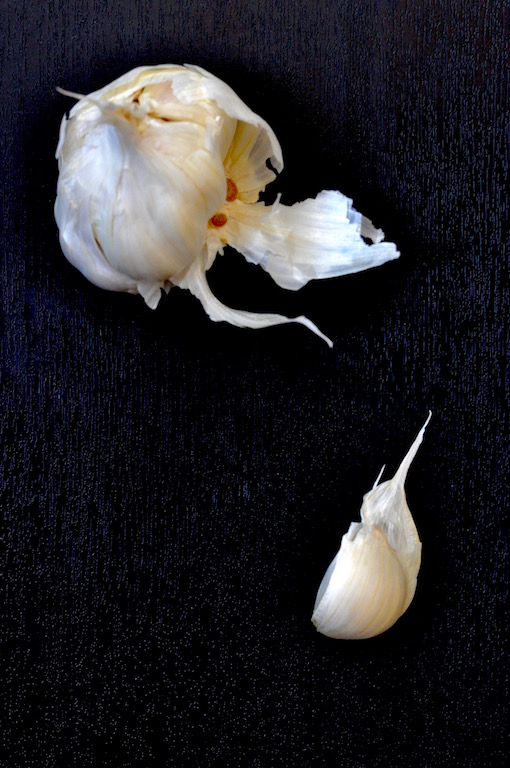 Flank steak was still cheap in 1994. Meat had yet to become a source of liberal handwringing. Butchering wasn't a hip job requiring ink, piercings, or familiarity with Baudrillard. Meat was sold in chain supermarkets, wrapped in earth-smothering styrofoam. Nobody thought a thing of it.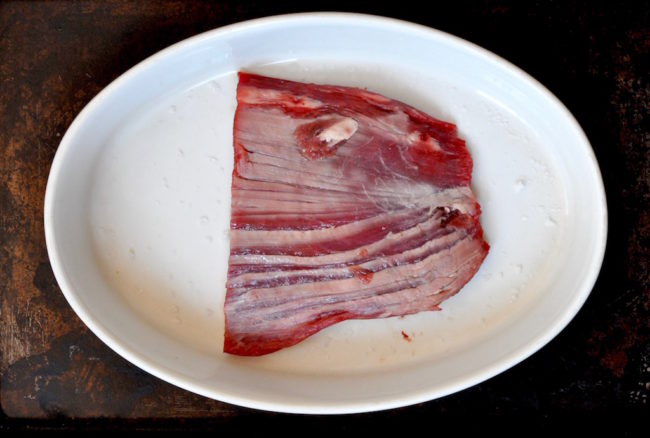 Back at Chez Roach, I covered the meat in crummy red wine, soy sauce, and a little garlic before sticking it beneath the broiler. This all transpired in the dark: turning on the oven and the lights blew the fuses.
Dinner was soon ready, and it was excellent. Here was a classic Colwin dish: little work, endless payoff.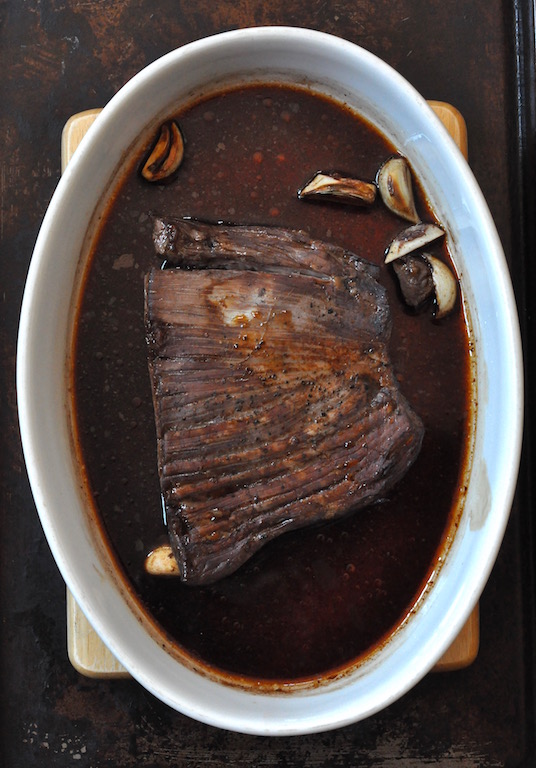 Flank steak remains a favorite. Unfortunately, it is no longer cheap. Happily, it is economical in that every bit is edible. Further, flank steak is delicious hot, cold, or lukewarm, and works well with a wide variety of sides.
As starving grad students, we were fond of flank steak alongside piles of mashed potatoes. Actually, we're still fond of flank steak alongside mashed potatoes, though we're no longer starving.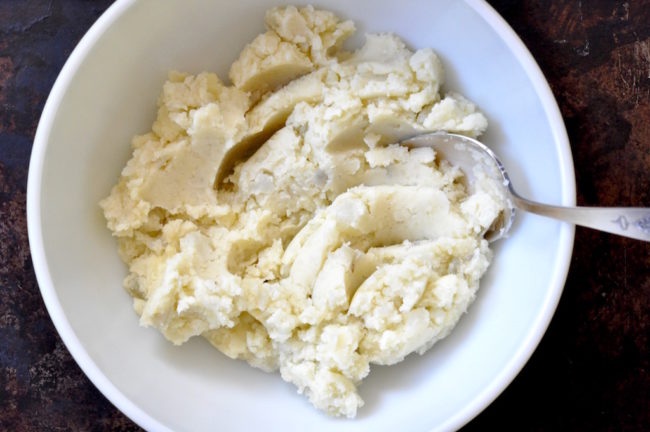 People are extremely particular about their mashed potatoes; terms like "fanatic" and "mania" come to mind. Nigella Lawson and Tamasin Day-Lewis warn against refrigerating the finished product. Julia Child sternly advises against placing a lid on a pot of waiting mash, lest it become "stovey." Anthony Bourdain, writing in Appetites, claims knowledge of Joel Robuchon's famed mashed potato recipe, which he cannot divulge. If he were to tell us, he'd have to kill us.
You're gonna die over mashed potatoes? 
Which brings me to the egg.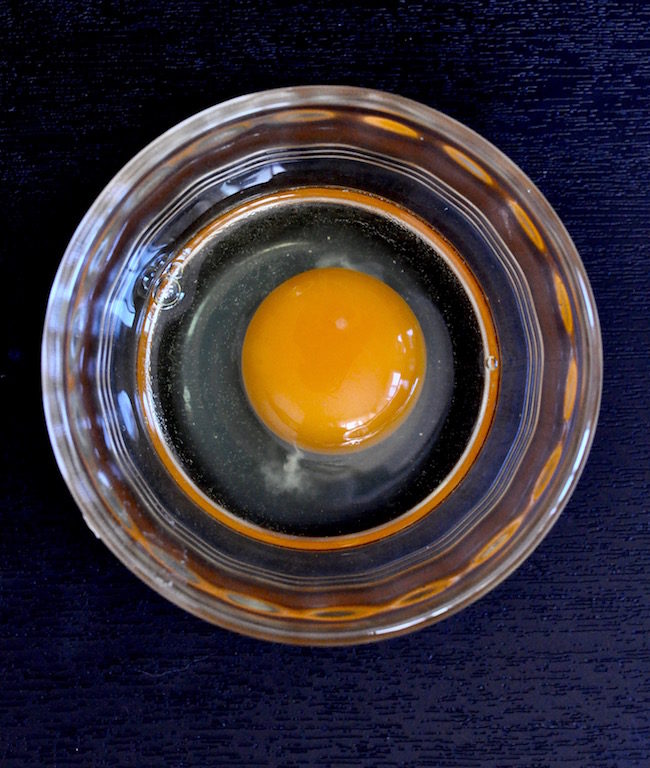 My grandmother always stirred a raw egg into her mashed potatoes. I thought this normal until the night a dinner guest watched me crack an egg into a bowl of steaming potatoes. She freaked.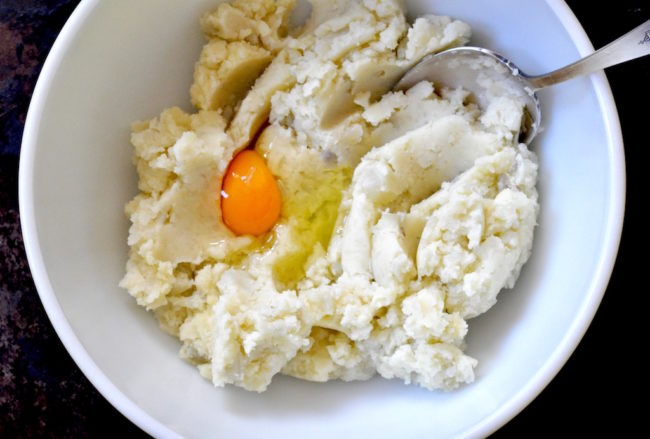 My grandmother kept kosher. An egg replaced the dairy she couldn't use. Should you go this route, add the egg while the potatoes are steaming hot. Stir quickly–you don't want an omelet in there–and, of course, use only the freshest eggs.
I want to say the idea for adding mustard to mashed potatoes came from the late, much-missed Gourmet magazine. We are devoted to Amora mustard, which is neither cheap nor subtle, though adding it to potato softens its sharper edges. Prior to discovering Amora, courtesy of David Lebovitz's My Paris Kitchen, I used Dijon. Start with two tablespoons and taste–this may be enough. And don't salt your mash until after adding the mustard, as mustards are often quite salty.
This is the sort of meal you can prepare on a weeknight, or serve to friends with whom you are on mashed potato rather than the competitive dinner party terms.
Months after moving out of roachville, I ran into a former neighbor, who gleefully told me the city had cited the building owners for vermin infestation. The gecko suggesters had been fired. "I wonder who reported them," She said.
I just smiled.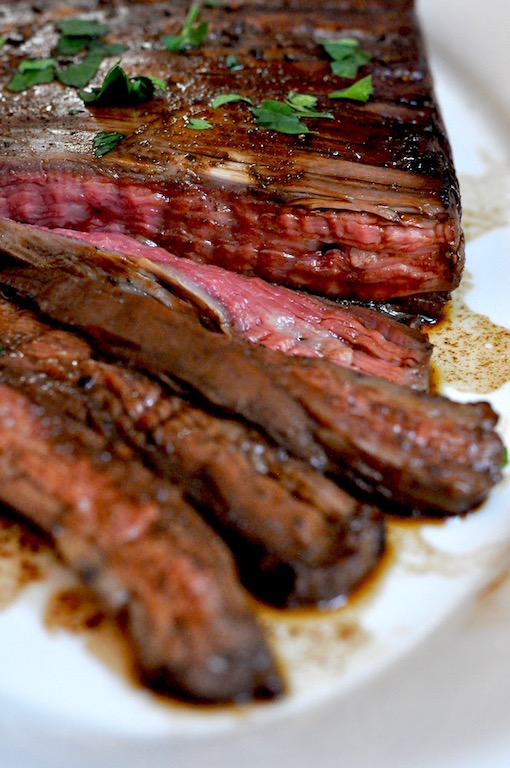 —
Broiled Flank Steak with Mustard Mashed Potatoes
Prep time: 15 minutes for the steak, about 45 minutes for the mashed potatoes.
Serving size: flank steaks are sold in 1-2 pound pieces; buy according to how many you are feeding. A pound feeds 3-4.
For the mashed potatoes: 4 large russet potatoes (about 2 pounds) feeds 3-4 or, in my house, 2 with leftovers.
For the flank steak:
1 flank steak; my piece was just under one pound
2 tablespoons soy sauce
1/2 cup decent red wine
1 teaspoon black pepper or three grinds of the peppermill
1-3 large garlic cloves, crushed and peeled
1 tablespoon olive oil, optional
For the mustard mashed potatoes:
3-4 large russet potatoes, peeled and chunked
1 egg, optional
unsalted butter, ideally Kerrygold or another European full-fat butter.
Dairy of your choice: buttermilk, milk, half-and-half, or heavy cream
2 tablespoons of your favorite mustard: I use Amora or Dijon
Salt and pepper
Marinate the flank steak:
1-24 hours before cooking, place the flank steak in a broiler-proof baking pan. Pour the soy sauce, red wine, garlic, pepper, and olive oil, if using, over. Cover with foil and refrigerate if marinating ahead of time.
Bring meat to room temperature before broiling.
Set your oven's shelf in the second slot from the top, which allows the meat to cook without burning. Preheat your broiler.
Slide the flank steak into the oven. Cook five minutes, then turn the steak over and cook an additional five minutes. If you like meat more well done, turn it over again and cook an additional five minutes for a total 15 minutes cooking time. The meat will continue cooking off the heat.
Remove the flank steak from the oven. Tent loosely with foil. Allow to rest for about ten minutes. Slice thinly.
That's it.
For the potatoes:
Bring a large pot of salted water to a rolling boil. Add the potatoes. Cook until tender, about 20 minutes.
Drain and dump them into a large bowl.
Mash the potatoes with a masher, or, if you are on a quest for mashed potato perfection, a mixer or food mill. If you're using the egg, now is the time to stir it in, fast. Add the butter and dairy in amounts you see fit. When the mash tastes right to you, stir in the mustard, beginning with two tablespoons. Taste: this may be enough. If not, add a bit more. Do not salt until you have the mustard balance right, as mustard is salty. Once you're satisfied with the mustard, taste for salt and pepper.
The flank steak keeps, refrigerated, up to three days, though we never have it around that long. Although mashed potatoes keep in the fridge, they become stodgy; eat them quickly. Or form leftovers into potatoes cakes and fry them in butter, olive oil, or duck fat.
Notes: Do not salt the flank steak. Soy sauce is salty enough. Dark soy, or "mushroom-flavored soy sauce," is nice here. Sometimes I use olive oil, sometimes I don't. It's great either way. We love garlic, so use lots. Use as much or little as you wish. Lining your baking dish with foil or baking paper saves washing up.
Amounts of butter and dairy for the potatoes are not given, as mashed potatoes are a deeply personal food: please add to your taste. If you are using a raw egg, please use a fresh one from a friendly farm where chickens live happy chicken lives. Do not feed raw eggs to the ill, elderly, very young, or immunosuppressed and then sue me when they fall ill. Use common sense–and the best possible eggs. If in doubt, don't use the egg. Thank you.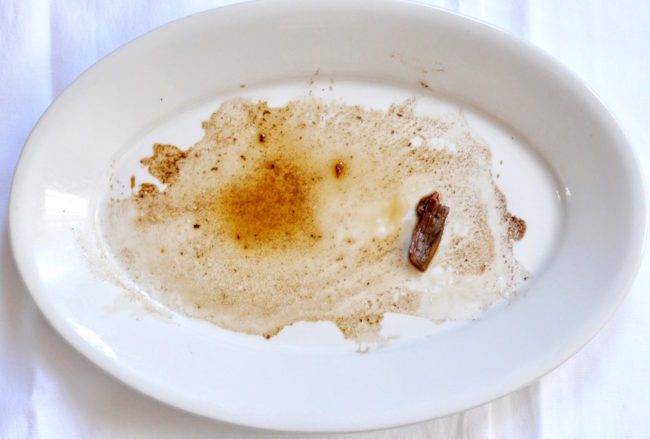 Share: