Dried Shrimp and Pickled Lettuce Salad
September 5, 2017
Occasionally you pick up a cookbook at random. You park it on your "to read" shelf with every intention of getting around to it. Meanwhile, various disasters transpire: dental work, feline illness, neighbor drama, spousal sickness, inept national leadership, world mayhem.
Finally you open the cookbook. There, glimmering, is the recipe you wish to prepare.
Why this recipe and not another? Who knows? Why should recipe choice make sense when nothing else does? Never mind. Off you go to 99 Ranch in search of pickled lettuce and extra-large dried shrimp.
Are these shrimp sustainable? Are they local?
Unlikely on both counts.
Uneasily pushing these thoughts aside, you head home.
—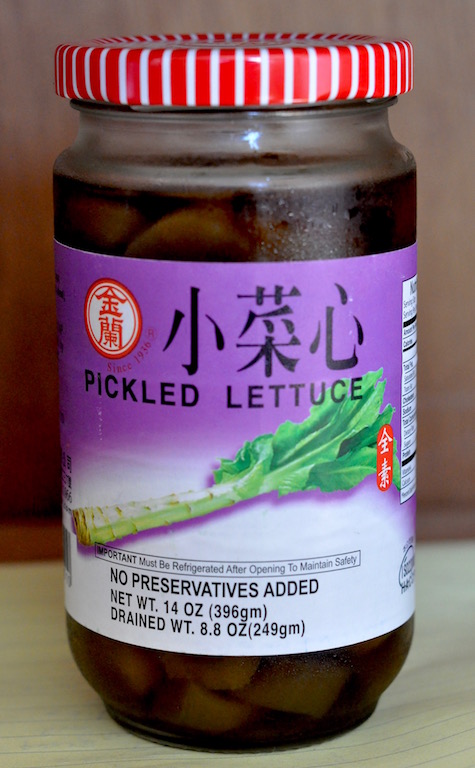 If, like me, you graduated Alice Waters University, whose vegetal requirements include quivering freshness, rigorous seasonality, and a local pedigree, pickled lettuce may come as a shock.
First there is the matter of appearances. Pickled lettuce is decidedly drab stuff.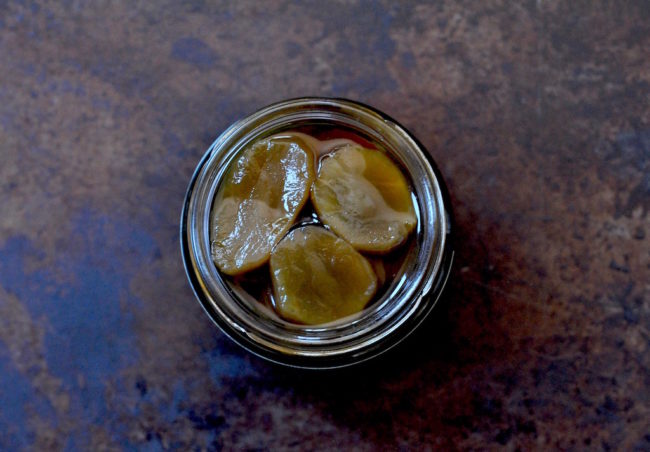 Nor is pickled lettuce the leafy stuff one dresses with artisanal olive oil and pricey balsamic. It's actually celtuce, a lettuce variety popular in China. Raw or processed, celtuce is delicately flavored, with a snappy texture that isn't lost in processing. Packed in a brine of sugar and soy sauce, it is mild-tasting, sweet, salty, and completely addictive.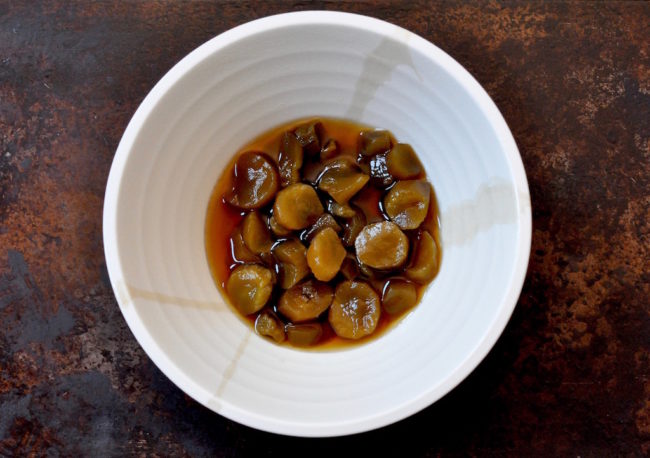 The recipe comes from Thai Cooking from the Siam Cuisine Restaurant, by Kwanruan Aksomboon, Somchai Aksomboom, and Diana Hiranga. The Aksombooms ran the now-closed Siam Cuisine, in Berkeley, California.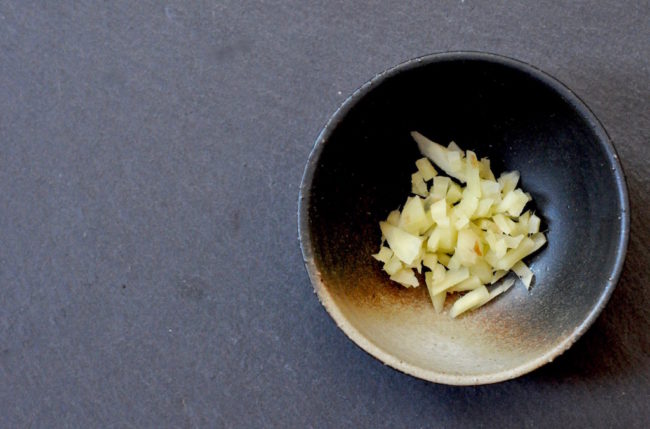 Published in 1989, Thai Cooking predates the glossy cookbook explosion and widespread foodiemania. The authors patiently explain ingredients like lemongrass, coconut milk, and dried shrimp–ingredients many of us had neither heard of nor tasted thirty years ago.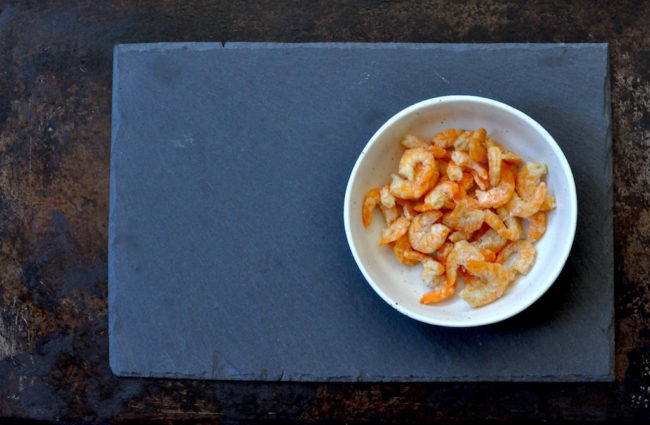 Ingredients many of us consider commonplace today.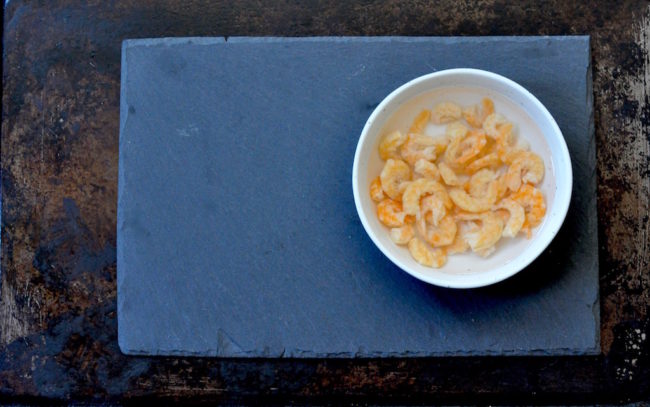 The authors tell us when Mrs. Aksumboom makes this dish at home, she adds more chili peppers and lime juice. The recipe has "been toned down for the book."
I suspect this is a polite way of saying some Western eaters are wusses in the chili department.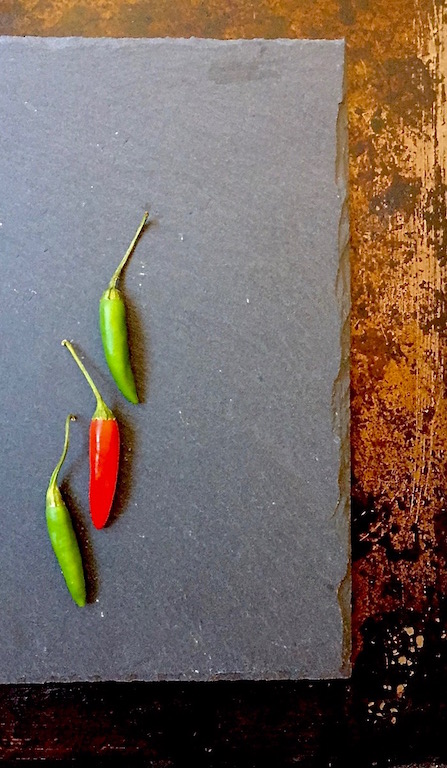 This delicious salad requires no cooking, a boon when temperatures are in the triple digits and your home lacks conditioning (cough). It keeps beautifully in the fridge for a couple days and while I do not eat Dried Shrimp and Pickled Lettuce Salad for breakfast, I can attest to its being a divine lunch.
Dried Shrimp and Pickled Lettuce Salad
adapted from Thai Cooking from The Siam Cuisine Restaurant by Kwanruan Aksomboon, Somchai Aksomboom, and Diana Hiranga.
Prep time: soaking dried shrimp takes 20 minutes; remaining prep is a matter of stirring ingredients together.
Serves 4 as a side dish or 2 with leftovers
20 large dried shrimp (approximately 2 ounces, or 1/4 cup)
5 ounces pickled lettuce from a jar, with some of the brine
1/2 to 1-inch piece fresh ginger, peeled and julienned
1 large clove garlic, peeled and thinly sliced
1-3 fresh Thai chili peppers, seeded or not, to taste, minced
fresh lime juice, to taste
white or palm sugar, to taste
Jasmine rice, for serving
Instructions
Place the shrimp in a heat-proof bowl. Heat one cup of water in the microwave for one minute. Pour water over the shrimp to rehydrate. Allow shrimp to soak for at least 20 minutes.
Meanwhile, empty five ounces of pickled lettuce into a medium bowl with some of the brine. The original recipe called for five ounces of brine; I prefer a less liquid salad. Taste and see what you like.
Add the ginger, garlic, and chili pepper(s) to the pickled lettuce.
Drain the shrimp and discard the soaking water. Add drained shrimp to salad bowl.
Taste; add lime juice to taste. Add sugar if wished; there is sugar in the brine and I find the salad sweet enough as is.
Taste again and adjust seasoning if necessary.
Serve Dried Shrimp and Pickled Lettuce Salad with rice for breakfast, lunch, or as part of a Southeast Asian meal.
Salad keeps, refrigerated in a covered container, three days. Do not freeze.
Notes:
Thai food is about balancing hot, sour, salty, and sweet flavors. Your ideal balance may require adjusting amounts of garlic, ginger, pepper, lime, and sugar accordingly.
Pickled lettuce is sold in a variety of jar sizes; this salad calls for about 5 ounces. If you have leftovers, refrigerate and use within three weeks, either in this salad or a stir-fry.
Dried shrimp is available in small, medium, and extra-large sizes. Ideally you want the extra-large size here. If you are unable to find it, use the largest dried shrimp you can find.
Share: