Pasta with Dandelion Greens and Oven-Dried Tomatoes
May 25, 2017
From Wikipedia:
Zebra is the American medical slang for arriving at an exotic medical diagnosis when a more commonplace explanation is more likely.[1] It is shorthand for the aphorism coined in the late 1940s by Dr. Theodore Woodward, professor at the University of Maryland School of Medicine, who instructed his medical interns: "When you hear hoofbeats, think of horses not zebras".[2] Since horses are common in Maryland while zebras are relatively rare, logically one could confidently guess that an animal making hoofbeats is probably a horse. By 1960, the aphorism was widely known in medical circles.[3]
Diagnosticians have noted, however, that "zebra"-type diagnoses must nonetheless be held in mind until the evidence conclusively rules them out.
—
The above explains why many people with Ehlers-Danlos Syndrome self-identify as "zebras." To this end, many EDS'ers collect zebra-patterned gear, including clothing and stuffed animals.
Me, I bought this pasta because it looked so pretty. It was what some people call "an impulse buy."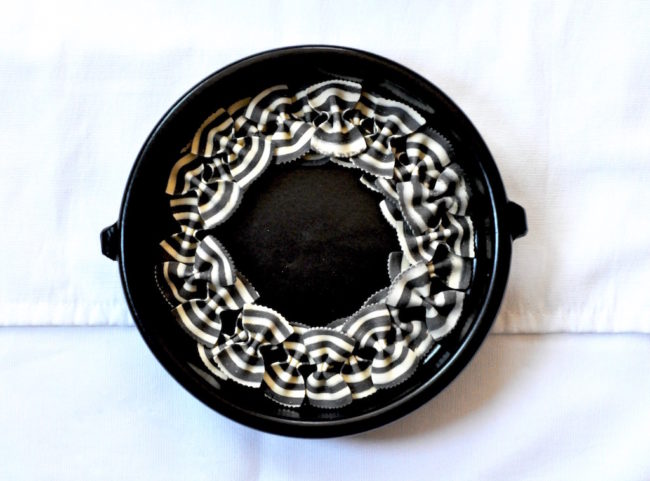 I do not consider myself an impulsive person. The opposite, in fact. But look at this pasta! What reasonable amateur cook/photographer/person with a zebra diagnosis could pass this up?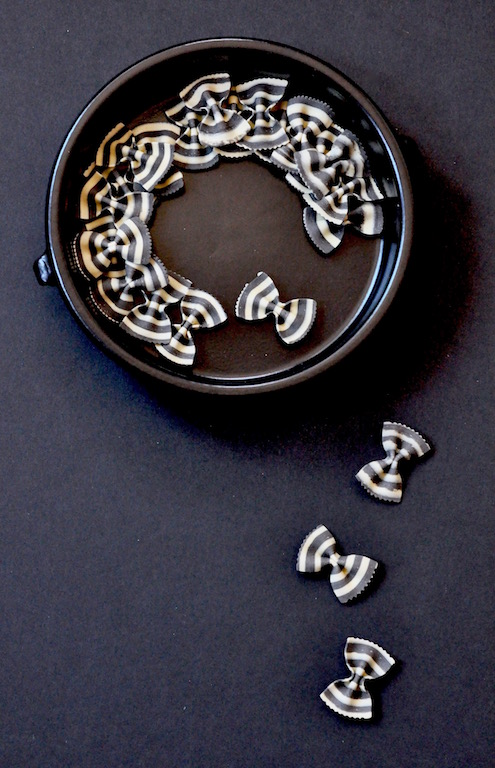 Vindication was quick to arrive with news of a power soccer tournament in San Jose.
San Jose is not exactly around the corner from us. In fact, it's a good hour's drive in light traffic. As this tournament involved teams from all over California, it was an all-day affair.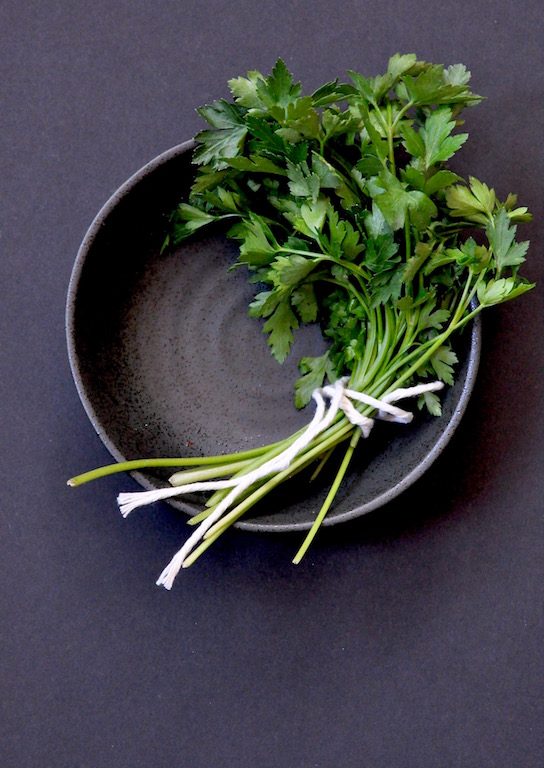 Meanwhile, the weather turned warm.
Provisioning lunch for power soccer tournaments is something of a challenge. Food must be portable, non-perishable, and easily consumed by somebody whose strength and mobility are severely comprised. No food that drips, stains, or might otherwise escape one's mouth.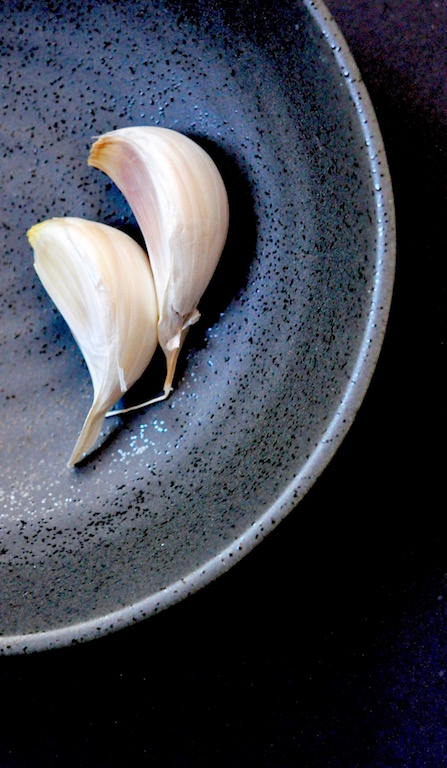 Atop all this, John, a reasonably easygoing eater, isn't fond of sandwiches.
He does, however, adore pasta.
Pasta doesn't leap to mind as easy eating. What can I say? This works.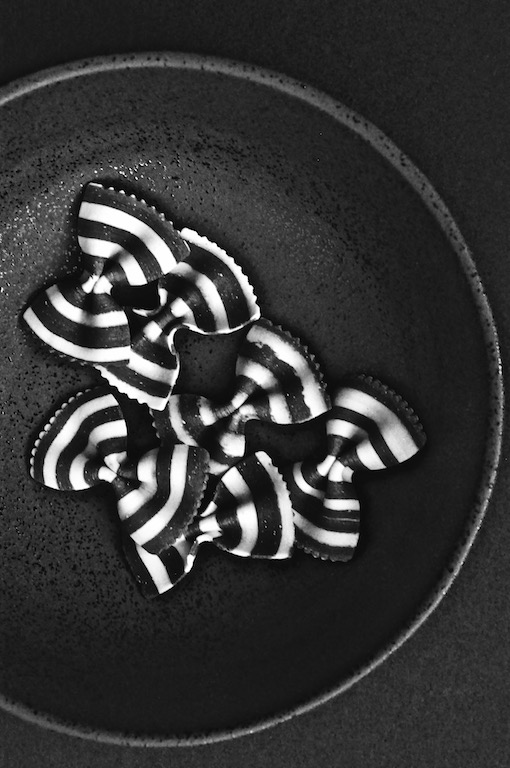 The first version of this pasta was a quick assembly job. I jotted down the ingredients, thinking I might make it again sometime. Saturday afternoon I received the following text:
This pasta rulz. 
On that note…
Oven-dried cherry tomatoes and their oil are key to success here. Should this ingredient elude you, I strongly suggest whipping up a batch (recipe below). I've never found commercially produced tomatoes in oil that don't taste strongly chemical. Which will ruin the dish. If you have access to a truly delicious commercial brand of tomatoes in olive oil, go for it. But only if they're truly good.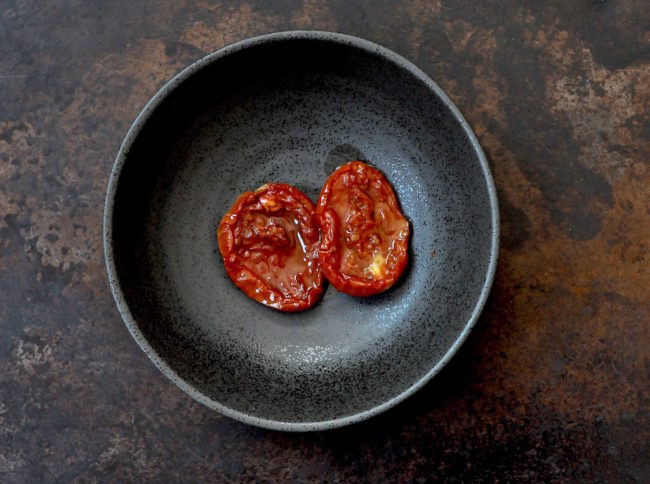 Lecture concluded.
Any soft, quickly wilting greens–spinach, baby arugula, young salad greens–will work here. I had dandelion greens in the house.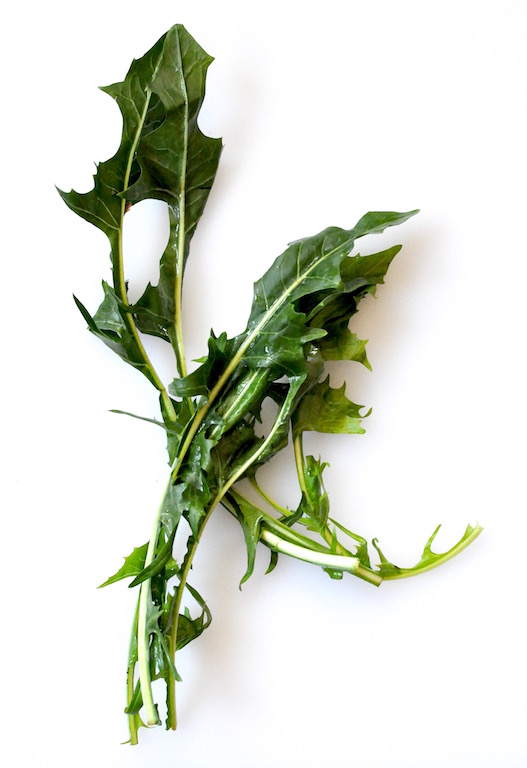 And of course, you need not use fancy expensive zebra farfalle. Orichette, conchiglie, your preferred gluten-free pasta–whatever you like is just fine. This is soccer-tournament pasta, not impress your stuffiest dinner-party-guests pasta. Who you likely wouldn't serve pasta anyway, right? You'd give them salmon or…I dunno…quinoa.
With love to Manchester–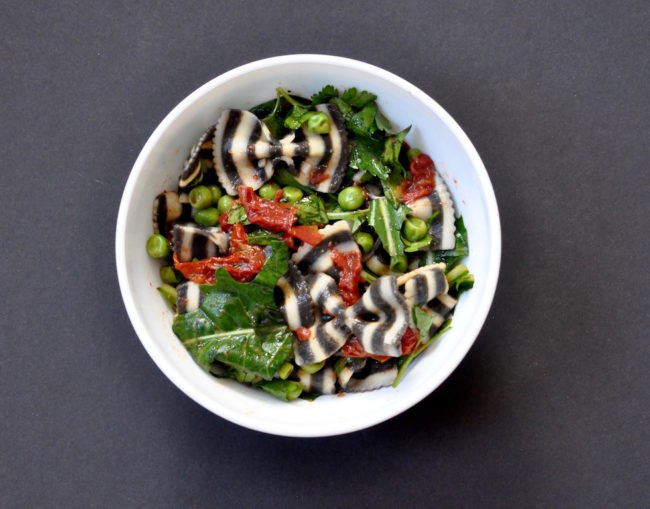 Pasta With Dandelion Greens And Oven-Dried Tomatoes
Yield: 1-2 servings
12 ounces farfalle, orichette, conchiglie, or your favorite pasta (see notes regarding serving sizes)
1 cup of pasta cooking water, reserved
handful of dandelion or other soft greens like spinach or baby arugula, washed, stemmed, and roughly chopped (approximately 1 ounce)
4 ounces fresh or frozen peas
2-3 teaspoons parsley leaves, roughly chopped (I used a small handful)
4 ounces oven-dried cherry tomatoes and the olive oil they were preserved or cooked in (recipe below)
1/2-1 large garlic clove, peeled and minced
zest of 1 large lemon
fresh lemon juice to taste
salt and pepper
your best olive oil, if needed
Instructions:
If you don't have roasted tomatoes on hand, prepare a batch:
Preheat the oven to 325 F.
Line a large baking sheet with foil.
Wash and halve four to eight ounces cherry or Roma tomatoes. Place them on baking sheet, cut side up. Salt lightly, then drizzle with olive oil. Bake for about 90 minutes, until tomatoes are chewy, but not so dried out they're turning to leather. If you place tomatoes in a sterilized half-pint jar and cover them with olive oil, they'll keep in the refrigerator for months.
To make the pasta:
Fill a 4-quart saucepan with water. Salt water generously: about two tablespoons. I use Diamond Kosher salt.
Bring water to a rolling boil, then add the pasta. Follow the package directions for cooking pasta, remembering to reserve one cup of the cooking water. The safe method for reserving boiling pasta water is by ladling it into a measuring cup. The dangerous, not-recommended way is by dipping the measuring cup into the pan of water. I am not suggesting you do this.
If your peas are frozen, cook them in small pan of boiling water, microwave them, or, if you are a philistine like me, add them to the cooking pasta.
Place the greens, peas, parsley, oven-dried tomatoes, garlic, and lemon zest in a large bowl.
When the pasta is ready, add to the bowl of greens. Stir and taste, adding lemon juice and the olive oil from oven dried tomatoes, if available, to taste. If you have no tomato-flavored olive oil to hand, use regular olive oil. If the pasta seems dry, add some of the reserved pasta-cooking water to loosen as necessary. Season pasta with salt and pepper to taste.
Serve Pasta with Dandelion Greens and Oven-Dried Tomatoes warm or at room temperature. It's a meal in itself, but a salad alongside never goes amiss.
Pasta with Dandelion Greens and Oven-Dried Tomatoes Keeps well for about three days, refrigerated. Don't even consider freezing it.
Notes:
Arguments about pasta serving sizes rage. Suffice to say this dish is aimed at American diners, who view pasta as "the meal." The American who ate this is actually from Canada. He ate the entire batch himself. For lunch.
You want a soft green like dandelion or spinach as the only "cooking" it gets is from the heat of the pasta.
If the oven dried tomato eludes you, we are coming into fresh tomato season as I write. The dish won't be the same, but you could toss in halved fresh cherry tomatoes. Chunks of feta cheese would actually work better, flavor-wise. I think meat of any sort would overwhelm the flavor balance, but should you wish to toss in cold cuts, I'd have no way of knowing.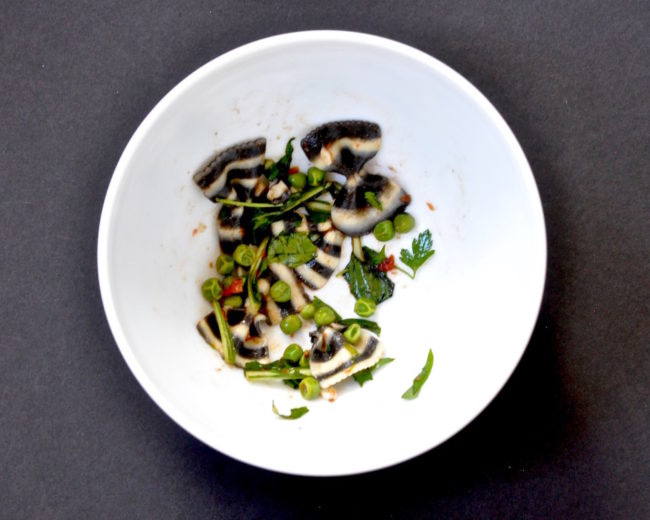 Share: