Mandelhornchen (chocolate-dipped almond crecscents)
August 9, 2017
Apologies for the silence around here. The IK hasn't been idle. If anything, she's been cooking far too much food as NPR blares in the background. Just a few days ago, she bought far too much fruit.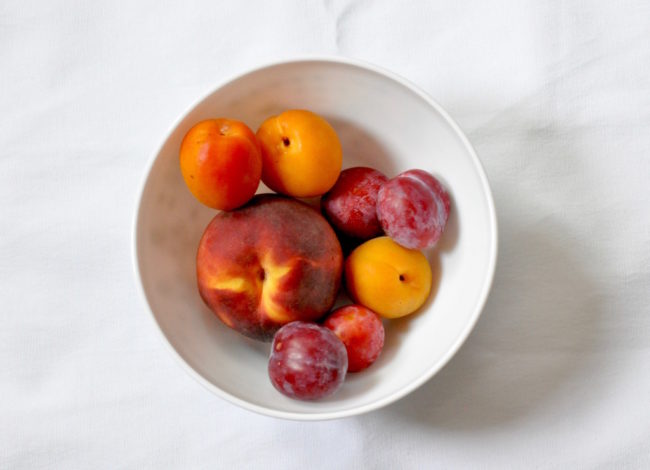 Before it could rot, she baked it into a cake adapted from a Claire Ptak recipe. Ms. Ptak turns her cake upside down, so the lovely fruit may be seen.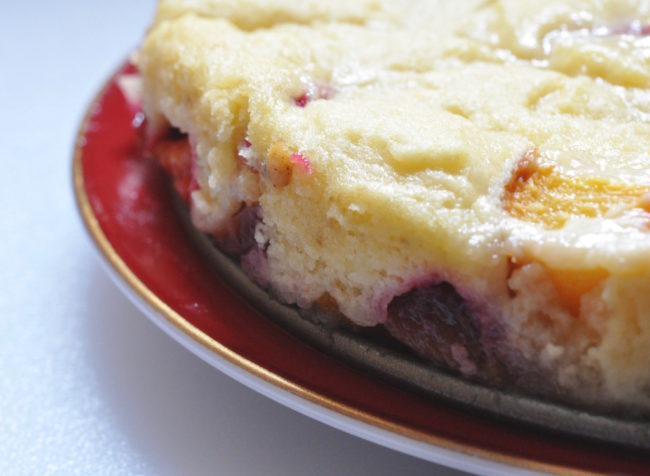 When it comes to flipping cakes, as the young say, we don't go there.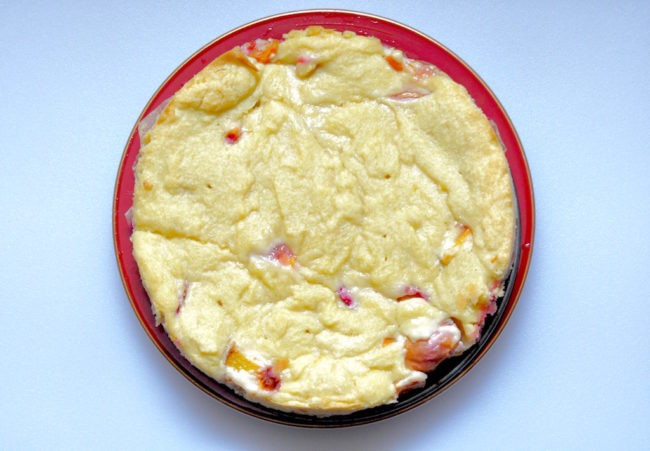 Listening to the news is instructive. It keeps one apprised of current events. It also chastens the chronically ill: listen to "The World" and your life looks like a rose garden. Yeah, the roses have thorns. No matter. Your life is a rose garden: comfortable, pretty, languorous.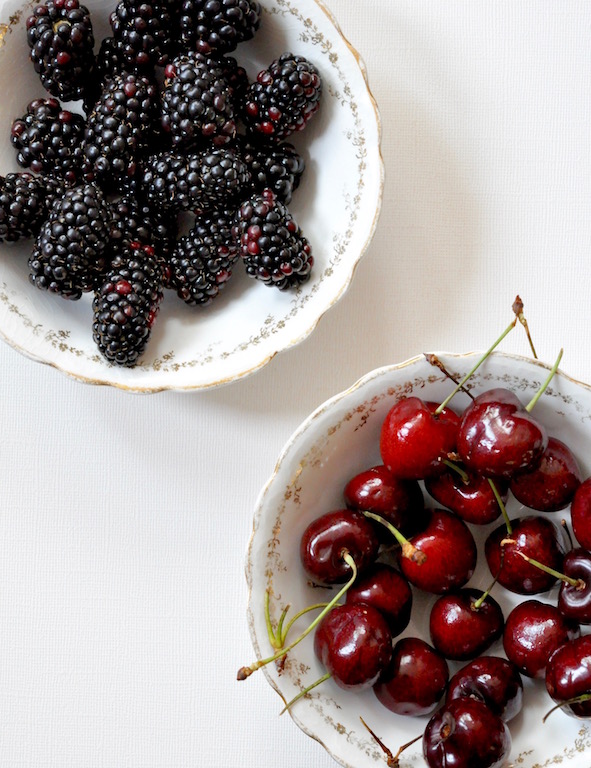 To wit: you are not starving in Venezuela. Your home is not being bombed by separatist fighters. You are not being forced wear a Niqab. Or remove it. You are not being forced to leave your birthplace because of your skin color, religion (or lack thereof), sexual orientation, or because your parents crossed an arbitrary line dividing "here" from "there."
Then again, listening to the news is enough to send you off the nearest cliff. Every broadcast brings you to tears. You dry your eyes long enough to scream, enraged, at the morons in power (you won't call that asshole president). Your gut roils; your yelling scares the cat.
It is difficult to turn such sentiments into amusing blog posts.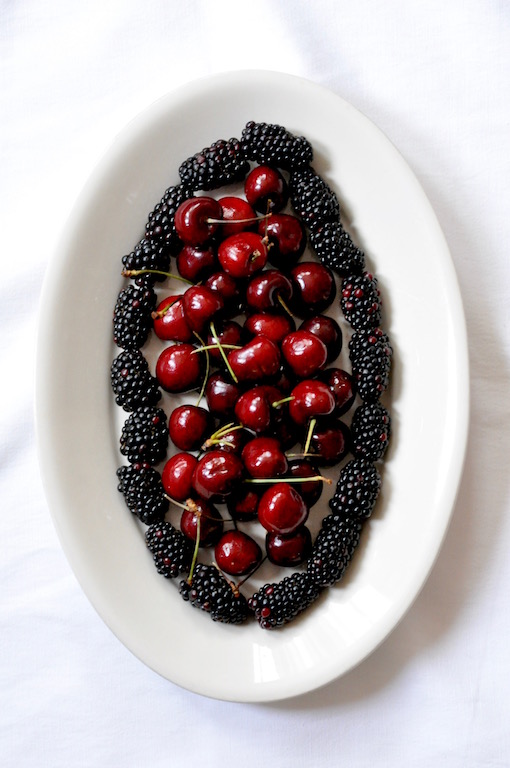 Meanwhile, ever late to the party, the IK bought Luisa Weiss's Classic German Baking, and baked Mandelhornchen, or chocolate-dipped almond crescents.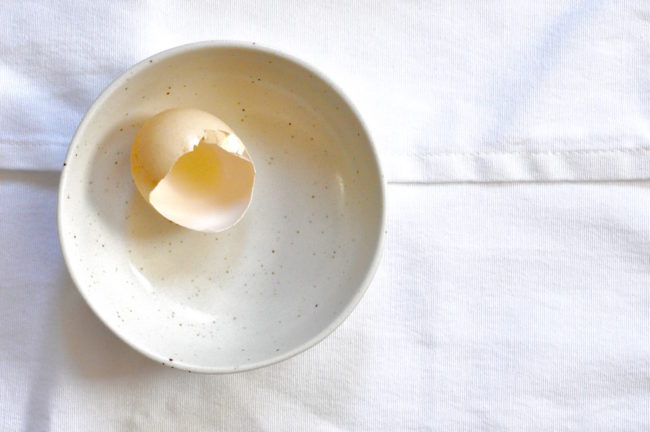 Mandelhornchen are made from almond paste and egg white, making them safe for Celiac sufferers. They will taste delicious even your manual dexterity rivals the IK's, that is to say, you have none.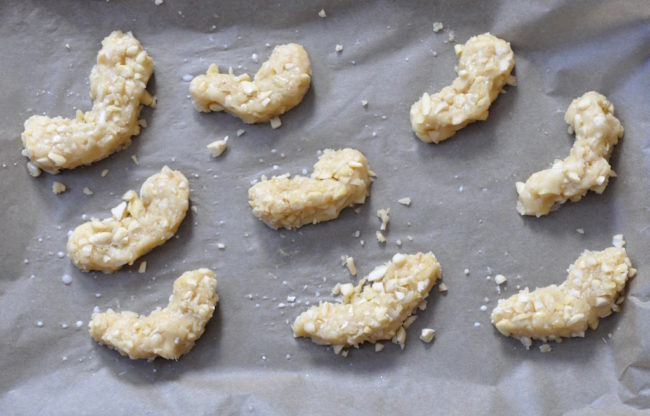 Classic mandelhornchen call for blanched sliced almonds. Should you only have whole almonds, don't despair. Blanch almonds by pouring boiling water over them. Soak for 10 minutes, then rub the skins off with a clean dishtowel or your hands. Chop the almonds with a chef's knife.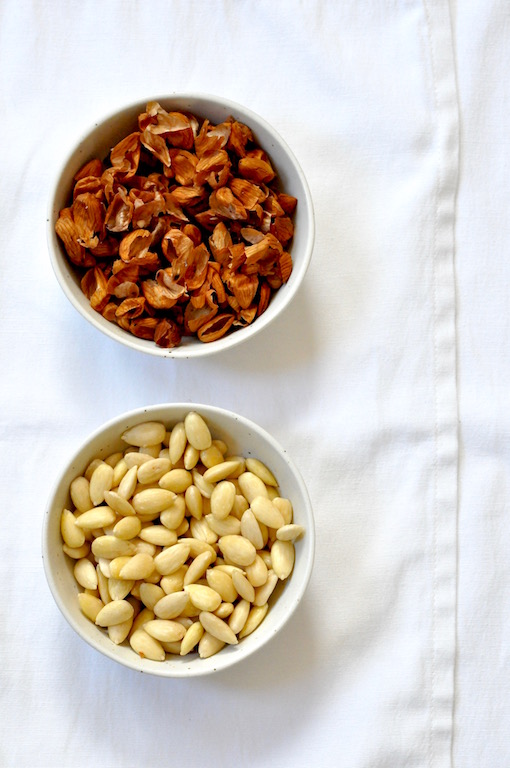 After baking and cooling, Mandelhornchen are brushed with melted chocolate. Feel free to dip the tips of each cookie in chocolate, too.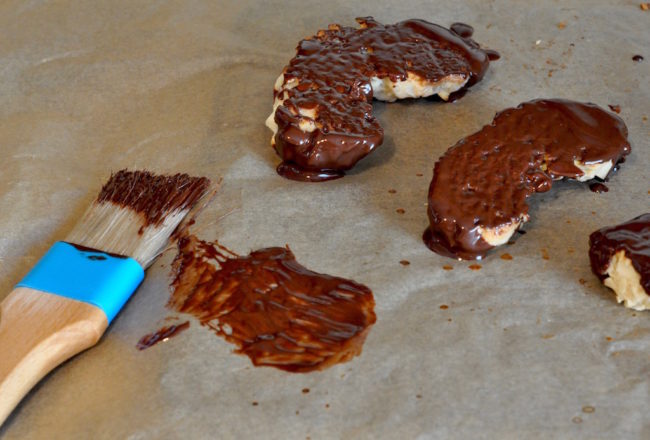 Mandelhornchen are very rich, meaning one or two cookies will to sate the most die-hard dessert lovers. Even if they're famished from screaming at the news.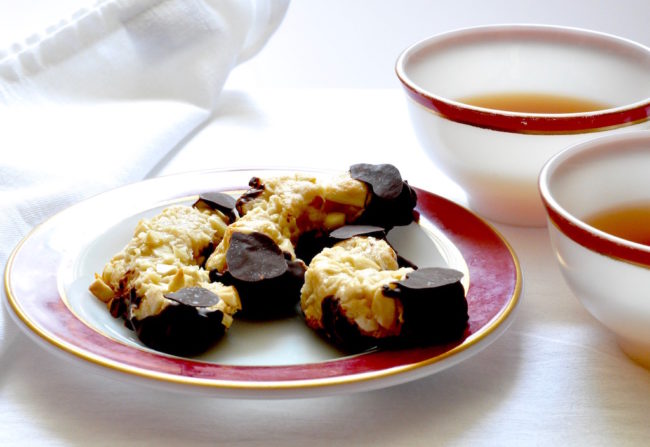 Mandelhornchen (Chocolate-Dipped Almond crescents)
From Luisa Weiss's Classic German Baking
yield: 8-10 cookies
Prep time: about 15 minutes baking time, with additional cooling time before dipping cookies in melted chocolate
One 7-ounce tube almond paste (not marzipan), cut or torn into small pieces
1/4 cup sugar
1 egg white
1 cup almonds, ideally blanched and sliced (see notes)
3 1/2 ounces bittersweet chocolate, chopped
Instructions
You will need a stand or hand mixer to bake mandelhornchen.
Preheat the oven to 350F.
Line a baking sheet with parchment paper.
If your almonds are not sliced and blanched, prepare them now. (Instructions below.) Either way, once almonds are ready, place them in a bowl.
Place the almond paste, sugar, and egg white in a mixing bowl. Using the paddle attachment, mix until ingredients are fully blended and creamy. This will happen quickly.
Have a bowl of cold water near you, along with the almonds and the baking sheet.
Dampen your hands with water, then pick up a small piece of the almond dough. Form a 4-inch log shape. Roll the almond log in the nuts, coating them as best as you can. Transfer the nut-coated dough to the baking sheet, shaping it into a crescent. Repeat until the dough is used up. You should get 8-10 pieces.
Bake the cookies about 15 minutes, until lightly browned and puffed. The mandelhornchen will also smell done (i.e., irresistible).
Place tray on a rack. Allow to cool completely.
Once the cookies are cool, melt the chocolate over low heat or in the microwave.
Before dipping your cookies in chocolate, be sure to save your baking parchment from baking cookies or tear off a fresh sheet.
Turn the cookies over. Using a pastry brush, gently paint a thin layer of chocolate across the bottom of each mandelhornchen. Dip ends of each cookie in chocolate, if desired. Allow cookies to dry, chocolate side down, before storing in an airtight tin up to one week.
Notes: To blanch almonds, pour boiling water over them and allow to sit ten minutes. Their skins will slip off easily with a clean dishtowel or by hand. I then chopped whole almonds with a chef's knife.
Bittersweet chocolate is sold in 4-ounce bars in the United States. Resist the urge to melt the entire four ounces, or you'll have leftover melted chocolate. I speak from experience.
Weiss notes she's used inexpensive chocolate from the corner shop to bake mandelhornchen and gotten good results. I used Ghirardelli Bittersweet 72% cacao, which is my go-to for baking.
Cookies will keep in an airtight tin up to one week. If you can keep them around that long. Good luck.
SaveSave
SaveSave
SaveSave
SaveSave
SaveSave
SaveSave
SaveSave
SaveSave
SaveSave
SaveSave
SaveSave
SaveSave
SaveSave
SaveSave
SaveSave
SaveSave
Share: